Strength­en­ing Your Mar­riage by Wayne A. Mack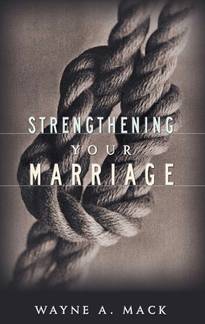 208 pages | Direct Price: $11.99 $9.00 | Paper­back | Pub­lished: 1977
Sum­mary: For bet­ter or for worse? Whichever term describes your mar­riage, there are ways to make it (even) bet­ter. That's because God has designed mar­riage to be a rela­tion­ship of deep unity and strength. Despite the chal­lenges that cou­ples face today, mar­i­tal har­mony need not be con­sid­ered an impos­si­ble ideal.
Wayne A. Mack rec­og­nizes the chal­lenges before us, and shows us how to meet those chal­lenges with grow­ing suc­cess. In this book, he has gath­ered a wealth of bib­li­cal insight and prac­ti­cal infor­ma­tion on mar­i­tal roles, com­mu­ni­ca­tion, finances, sex, child rear­ing, and fam­ily wor­ship. Both as a coun­sel­ing aid and as a guide for hus­bands and wives to study together, this book offers true hope and help where cou­ples need it most.
About the Author:
 Wayne A. Mack lives in Pre­to­ria, South Africa, where he serves as a pastor-elder with his son-in-law and teaches bib­li­cal coun­sel­ing at Strength­en­ing Min­istries Train­ing Insti­tute to pas­tors and aspir­ing pas­tors in the region. He also spends about six weeks in the USA teach­ing at var­i­ous churches. He and his wife, Carol, have four adult chil­dren and numer­ous grandchildren.
Table of Contents:
Fore­word
Intro­duc­tion
Unit 1: God's Pur­pose for Marriage
Unit 2: The Wife's Responsibilities
Unit 3: The Husband's Responsibilities
Unit 4: Good Communication
Unit 5: Finan­cial Agreement
Unit 6: Sex­ual Unity
Unit 7: Rais­ing Children
Unit 8: Fam­ily Religion
Con­clu­sion
_____________________________________________________________________________
Our mis­sion is to serve Christ and his church by pro­duc­ing clear, engag­ing, fresh, and insight­ful appli­ca­tions of Reformed theology.
_____________________________________________________________________________