This week's author inter­view is with Tim Chester. Tim is the author of You can Pray: Find­ing Grace to Pray Every Day.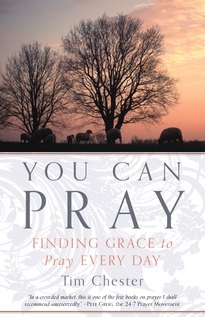 Ques­tion #1 — Tell us a lit­tle bit about your­self: where you're from, fam­ily, job, per­sonal inter­ests, unique hob­bies, what you do in your spare time, etc.
I'm mar­ried to Helen and we have two daugh­ters who are both at uni­ver­sity in the UK. I live in Sheffield, the most beau­ti­ful city in the world. We moved here in 2000 to start a church. But later this year my wife and I are mov­ing to North York­shire where I'll be co-leading a rural church plant. In my spare time I love his­tory and walk­ing plus a bit of wild swimming.
Ques­tion #2 — When did you first want to write a book?
I wrote my first book 21 years ago. I know that because it came out in the same month my first daugh­ter was born.
Ques­tion #3 — Have you always enjoyed writing?
I didn't so much dis­cover that I loved writ­ing as dis­cover that other peo­ple don't love writ­ing! I just assumed every­one could write. It wasn't until I'd writ­ten a cou­ple of books that I real­ized other peo­ple found writ­ing hard or painful. I think by writ­ing. So many of my books started with me wrestling with an issue. But I also love words and the way they work together. Often in idle moments I find myself com­pos­ing sen­tences in my head. Appar­ently this is not normal!
Ques­tion #4 — What book are you read­ing now?
Yes­ter­day I read a pre-publication copy of a great lit­tle book on Chris­t­ian growth by John Hind­ley called You Can Really Grow. Today I'm read­ing Life in the Trin­ity by Don­ald Fair­bairn. My bed­time read­ing at the moment is Clax­ton: Field Notes from a Small Planet by Mark Cocker – a nature diary based in the vil­lage of Clax­ton in Nor­folk, Eng­land. In the UK it gets dark at around 4:30pm at this time of year (the com­pen­sa­tion is it doesn't get dark until 10:00pm in the sum­mer) so in Feb­ru­ary read­ing about nature is a good alter­na­tive to being able to go walking.
Ques­tion #5 — What advice would you give to aspir­ing writers?
When peo­ple tell me they'd like to write a book, I always ask, 'What about?' And if peo­ple don't know then I dis­cour­age them. You have to have some­thing to say. It's not so much that I choose to write a book as a book chooses to be writ­ten by me. That's just a pre­ten­tious way of say­ing a topic grips my heart and then writ­ing about it feels like a com­pul­sion. I guess 'call­ing' would sound bet­ter, but 'com­pul­sion' is what it feels like!
Ques­tion #6 — Do you have an inter­est­ing writ­ing quirk?
I don't know if this counts, but I often leave out neg­a­tives in a sen­tence (words like 'not'). As typos go it's about as bad as it gets because of course it com­pletely reverses the mean­ing of the sentence!
Ques­tion #7 — Favorite sport to watch?
That's easy — cricket.
Ques­tion #8 — Favorite fla­vor of ice cream?
Don't mess about with ice cream, giv­ing it wacky flavours or trendy names. Just give me vanilla.
---
Want to learn more about Tim Chester?
---