The Story: The Bible's Grand Nar­ra­tive of Redemp­tion, One Year Daily Devo­tional for Stu­dents, is tar­geted towards high school and col­lege stu­dents. It will take you through the entire story of the Bible in one year. You won't read every sin­gle chap­ter of the Bible, but you'll read at least por­tions from every part of the devel­op­ing story of God's sal­va­tion for his peo­ple. Each day, you'll read a Scrip­ture pas­sage — usu­ally one chap­ter or so and some­times just a few verses. After read­ing the pas­sage, you'll read an expla­na­tion of the pas­sage, which will seek to make the pas­sage clear, remind you of its place in the story, and make an appli­ca­tion to your life.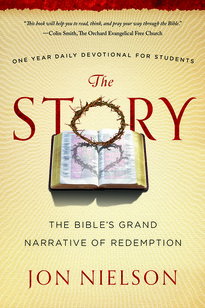 Read a sam­ple devo­tional below: Day 323*
Colossians 1: 15-23
Jesus is Lord, and Jesus is enough. You could prob­a­bly sum up the mes­sage of the book of Colos­sians with that sim­ple sen­tence. To put it in more tech­ni­cal terms, Colos­sians argues for the supremacy and the suf­fi­ciency of Jesus Christ. Jesus is supreme — the infi­nitely holy, wise, and pow­er­ful God of all cre­ation. Jesus is suf­fi­cient — more than enough to not only save and for­give peo­ple but also to sus­tain and empower them for the Chris­t­ian life. Paul's goal in the let­ter to the church at Colos­sae is to lift Jesus high — to exalt him as the glo­ri­ous Lord who is more than enough for his peo­ple. But why does Paul feel the need to send this mes­sage to this church?
It seems that as this church grew, cer­tain peo­ple who were oppo­nents of the true gospel of grace began to creep into the com­mu­nity. This hap­pens a lot in the New Tes­ta­ment churches; that should be a les­son for us today! While the essence of the "Coloss­ian heresy" is debated, it seems most likely that it was some kind of Jewish-related mys­ti­cism — a strange spir­i­tu­al­ity that promised deeper holi­ness, truer knowl­edge, and a more advanced level of spir­i­tual devel­op­ment. Paul's goal in this let­ter is to counter this heresy by show­ing that noth­ing more than Jesus is needed — either for sal­va­tion or for the Chris­t­ian life.
In the glo­ri­ous pas­sage you read today, you saw Paul lift­ing up Jesus as, first, the Cre­ator of the world. Jesus — the eter­nally exis­tent sec­ond per­son of the Trin­ity — was active in cre­ation. We must not for­get that! Next, Paul points us to the pri­macy that Jesus has in rela­tion to the church of God. "And he is the head of the body, the church," writes Paul; he is also the "first­born from the dead" (1:18). More than all this, Jesus is the one who brings eter­nal sal­va­tion, peace, and for­give­ness through his work on the cross. It is in Christ that we are rec­on­ciled to God, because of the "blood of his cross" (1:20). Jesus — Cre­ator, head of the church, bearer of the cross. It's as if Paul is shout­ing, "Why would you want or need any­thing else?"
Do you really — prac­ti­cally — believe that Jesus is enough? Enough to say no to sin? Enough to fill you will ulti­mate joy, sat­is­fac­tion, and peace? Paul tells us to believe that Jesus is suf­fi­cient for us in every way. Today, pray that you would believe this. Ask God to help you rest in your Sav­ior even more!
*Excerpt taken from page 339 of The Story: The Bible's Grand Nar­ra­tive of Redemp­tion, One Year Daily Devo­tional for Stu­dents by Jon Niel­son, copy­right 2014, P&R Pub­lish­ing, Phillips­burg, NJ.