This week's author inter­view is with Mar­garet Ash­more, author of the Gospel for Real Life book­let, Depres­sion: The Sun Always Rises.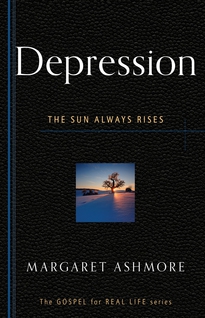 Ques­tion #1 — Did you always enjoy writing?
No. I can't say I take plea­sure in it any­more than I do in clean­ing house or respond­ing to let­ters. How­ever, I love hav­ing a clean home and the very sin­gu­lar sat­is­fac­tion of putting a stamp on a fin­ished note to some­one who was kind enough to send one to me. Writ­ing Depres­sion: The Sun Always Rises was largely labo­ri­ous for me. But it was worth what­ever toil or exer­tion in know­ing that some­one who is in the deep pit of depres­sion can hear a voice from the precipice above say­ing, "The good news of the gospel can reach deeper than any man-made nos­trum, any talk show, any psy­cho­log­i­cal label or any phar­ma­ceu­ti­cal "fix" with the fath­om­less love of the Sav­ior, Jesus Christ. It is a sat­is­fac­tion that moti­vates me to write again.
Ques­tion #2 — Other than the bible, do you have a favorite book?
A favorite of Chris­ten­dom is Augustine's Reli­gious Affec­tions. "The affec­tions are the mighty urges of our hearts. Our affec­tions ignite us. They kin­dle our spir­its. They set us aflame. They deter­mine how our hearts are tilted. They incline us, lying at the base of every­thing we are and do." In Edward's some­what quaint lan­guage: "These affec­tions we see to be the springs that set men ago­ing, in all the affairs of life."
Ques­tion #3 — Do you have a favorite quote?
Dif­fer­ent quotes become favorites at dif­fer­ent times in my life but there is one that has weath­ered every sea­son serv­ing as a con­stant reminder of God's great sov­er­eign love and holy intent in the midst of loss. From Matthew Henry's com­men­tary of the book of Jonah and writ­ten as a response to Jonah's lament over the loss of his "com­forts". "God can wither that to us from which we promise our­selves most sat­is­fac­tion that our wants and dis­ap­point­ments in the crea­ture may drive us to the Cre­ator."
Ques­tion #4 — Do you have a favorite movie?
When­ever this ques­tion is ban­tered about in my cir­cle of friends the con­ver­sa­tion picks up con­sid­er­ably. If I were inclined toward a "hobby", it would be that of watch­ing clas­sic films and my all time favorite is the 1962 mas­ter­piece, "To Kill A Mock­ing­bird". It per­fectly cap­tures the won­der and magic of child­hood and that most dif­fi­cult pas­sage into the real­ity of adult­hood – expressed so beau­ti­fully when Atti­cus (the father) tells his son in the after­math of wit­ness­ing great injus­tice and mal­ice, "There's a lot of ugly things in this world, son. I wish I could keep 'em all away from you. That's never pos­si­ble." A close sec­ond would be Lew Wallace's 1959 epic, "Ben Hur: The Tale of the Christ", one of the most beau­ti­ful sto­ries of redemp­tion ever on film.
____________________________________________________________________________
Inter­ested in learn­ing more about Margaret?
Visit her web­site: http://www.margaretashmore.com/index.html
Visit her blog: http://christiancounseling.com/blog/26
____________________________________________________________________________