This week's author inter­view is with S. M. Baugh, author of First John Reader: Inter­me­di­ate Greek Read­ing Notes and Gram­mar and A New Tes­ta­ment Greek Primer.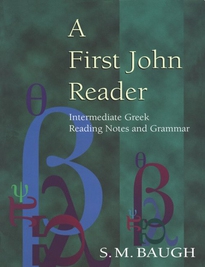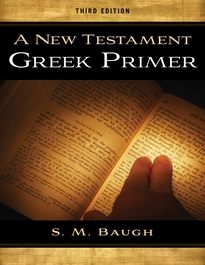 Ques­tion #1 — Tell us a lit­tle bit about your­self: where you're from, fam­ily, job, per­sonal inter­ests, unique hob­bies, what do you do in your spare time, etc.
I am Pro­fes­sor of New Tes­ta­ment at West­min­ster Sem­i­nary in Cal­i­for­nia where I've been in one capac­ity or another since I arrived as a stu­dent in 1982. My wife, Kathy, and I have been mar­ried for over 30 years and we have three grown chil­dren. I am also a min­is­ter in the Ortho­dox Pres­by­ter­ian Church. I just fin­ished a com­men­tary on Eph­esians and have con­tin­u­ing inter­ests in the Greek lan­guage, the king­dom of God (which is my next book project), and the book of Hebrews. I have indulged in lots of dif­fer­ent hob­bies over the years, but the only ones to have sur­vived are gar­den­ing and main­te­nance of our house and prop­erty. We have 2.5 acres in a county area north of Escon­dido which we jok­ingly call The Lazy B Ranch because of all the work it requires to main­tain. Kathy and I are gar­den­ing year round in crazy South­ern Cal­i­for­nia weather, squeez­ing apple cider with my family's old cider press which we used grow­ing up, buck­ing and split­ting euca­lyp­tus fire­wood from our trees by hand, build­ing and main­tain­ing sheds, fur­ni­ture, etc. Things like car and motor­cy­cle main­te­nance are not hob­bies, but they also take some free time. We are any­thing but lazy out at the Lazy B!
Ques­tion #2 — When did you first want to write a book?
Actu­ally I didn't want to write that book. I wrote the New Tes­ta­ment Greek Primer for our inten­sive sum­mer Greek class at WSC only because the text­book we had been using for­ever by J. G. Machen had gone up too much in price to be afford­able for stu­dents (it's still about $90). I can't say I enjoy writ­ing books as much as I really love research and learn­ing new things. It's like being a detec­tive some­times, par­tic­u­larly with some of the arcane things which catch my inter­est that few other peo­ple inves­ti­gate. Writ­ing for me is just how I share what I've learned with our stu­dents and others.
Ques­tion #3 — What book are you read­ing now?
I think it proves what a Greek geek I can be that I have two works on Greek word order and nat­ural sen­tence divi­sion by my bed­side, a print-out of Hebrews so that I can mark it up for things like hyper­ba­ton and what is called in Ger­man Auf­takt ("up-beat" or anacru­sis). But I also have a biog­ra­phy of the church father, John Chrysos­tom, and a Walt Long­mire novel by Craig John­son as a fun book there as well, so I'm not com­pletely off my rocker.
Ques­tion #4 — What advice would you give to aspir­ing writers?
Find what works best for you. I've heard the advice that you should write a page per day or such, but that has never worked well for me. I tend to immerse myself in the process and find it dif­fi­cult to emerge for nec­es­sary tasks (dis­trac­tions?). Over time, I have devel­oped a rou­tine, but it is my rou­tine that works well for me not one that works for some­one else. I'm not a great writer and my work and inter­ests tend to be quite tech­ni­cal a times, but it's what the Lord has called me to. Be your­self and true to that to which the Lord has called you is my advice.
Ques­tion #5 — Favorite sport to watch? Why? Favorite sport's team?
I'm from a small farm town in Ore­gon and my first degrees are from the Uni­ver­sity of Ore­gon where I dis­cov­ered a love for bib­li­cal schol­ar­ship. So I fol­low most Ore­gon sports as a way to stay con­nected with my roots. Most peo­ple know about Oregon's foot­ball team, but Ducks can also be pretty pas­sion­ate about track and field. For exam­ple, Ash­ton Eaton, the Olympic decathlon gold medal­ist and world record holder, also grew up in a small town in Ore­gon and went to the U. of O. We love our Ducks!
__________________________________________________________________________
Want to learn more about S. M. Baugh?
Visit his fac­ulty page on his seminary's web­site: http://wscal.edu/academics/faculty/s-m-baugh
__________________________________________________________________________