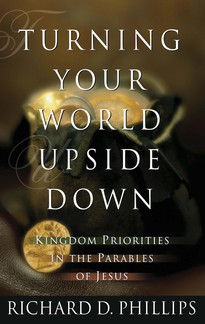 248 pages | Direct Price: $14.99 $5.20 | Paperback | Published: 2003
Summary: The parables of Jesus pose a striking challenge to current thinking about personal relationships, money, security, and success. They search our hearts and try our attitudes, showing us the truth about ourselves and pointing the way God wants us to go.
The parables confront our worldliness with the searching perspective of heaven—all the while deepening our understanding of salvation and the priorities of Christ our King. In short, they turn our world upside down.
Richard Phillips shows how as he explores Jesus' parables of the sower, the rich fool, the lost treasure, and many more in these thirteen chapters. Discussion questions help to make this book well suited to group or individual study.
About the Author:
Richard D. Phillips (MDiv, Westminster Theological Seminary) is the senior minister of Second Presbyterian Church of Greenville, South Carolina. He is a council member of the Alliance of Confessing Evangelicals, chairman of the Philadelphia Conference on Reformed Theology, and co-editor of the Reformed Expository Commentary series.
Phillips
What Others Say About This Book:
"People love stories. Jesus, the Master teacher, used stories to teach us about his Kingdom. As you read this book, be prepared to be challenged in your daily life. A welcome addition, this easily read volume carefully and accurately reflects the heart of Jesus in each kingdom story."
"Rick Phillips relates the profound truths beneath the surface of Jesus' apparently simple parables in ways that relish God's astonishing love."
_____________________________________________________________________________
Our mis­sion is to serve Christ and his church by pro­duc­ing clear, engag­ing, fresh, and insight­ful appli­ca­tions of Reformed theology.
_____________________________________________________________________________