This week's author interview is with Jim Schwenk. He is the author of our new book, George Whitefield: A Guided Tour of His Life and Thought.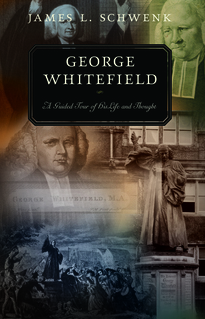 Question #1 – Tell us a little bit about yourself:  where you're from, family, job, personal interests, unique hobbies, what you do in your spare time, etc.
I am a native and life-long resident of Pennsylvania. I've been married to my wife, Loretta, for 27 years, and we have two adult children who are still hanging around our house! For the last year and a half, I've been the lead pastor of Gingrichs Mennonite Church, Lebanon, Pennsylvania. Prior to that, I was Professor of Church History at Evangelical Seminary, Myerstown, PA and I continue to teach there, and at several other schools, in an adjunct capacity. My family and I live in a 1760s log cabin, and raise beagles and rabbits.
Question #2 – Which writers inspire you?
I was introduced to C.S. Lewis by Ann Louise Wanner, my 11th grade honors English teacher. We were given the assignment of reading a science fiction trilogy: either one by Isaac Asimov or some guy I never heard of named Lewis! I had already borrow the Asimov books from the library. Mrs. Wanner passed my desk and said, "You don't want to read him. You want to read Lewis." I took her advice, and I was hooked! Eventually, through Lewis, I was introduced to J.R.R. Tolkien. These two member of the Inklings have become dear friends and trusted colleagues.
Question #3 – What inspired you to write this book?
With much of my professional training coming from a Wesleyan perspective, I always heard of George Whitefield as the man who had a serious theological disagreement with John Wesley. Perhaps it was a bit of "Wesleyan rebellion" that I first started to read about Whitefield, eventually diving into his sermons, letters and journals. I soon discovered, that while I could appreciate John Wesley, I came to love George Whitefield. His passion for souls, his dynamic preaching, and his ability to work with fellow believers from many different backgrounds inspired me allow him to speak to the contemporary church and society.
Question #4 – Do you have an interesting writing quirk?
Tea. More tea. And BBC World Service on in the background. I also write a great deal on yellow legal pads first, before sitting down to enter what I've written into the computer.
Question #5 – What book are you reading now?
I'm reading Stephen Lawhead's, The Skin Map. I read his Arthurian cycle some years ago, and found this particular book in a used bookstore recently. I'm hooked again! Being a big fan of the British science fiction television series, Doctor Who, I'm fascinated by Lawhead's experiment with time travel in The Skin Map. I've just ordered the second volume in the series . . . hoping it arrives soon!
Question #6 – Favorite sport to watch?  Why?  Favorite sport's team
You've probably noticed from my previous answers that I've got a definite "British" slant.  While this is true, my favorite sport is still American football – probably because one of my childhood dreams was to become a kicker on a football team. Even though I've always lived in Pennsylvania, my favorite team is the New Orleans Saints. In fact, my wife and I love a lot about New Orleans: the food, the music, the people, and yes, the Saints!
Question #7 – The Lord of the Rings or The Chronicles of Narnia?  Why?
This might be the toughest question yet! But if I have to choose one, it would be The Lord of the Rings. I choose that because of Tolkien's rare ability to create, not only new worlds in his writing, but languages, creation myths, history – and in the process, keep everything so consistent and tightly knit. Plus, my son has a Welsh Corgi named, "Tolkien."
Question #8 – What famous person (living or dead) would you like to meet and why?
While Whitefield would definitely be near the top of my list, as would C.S. Lewis, top place would have to go to J.R.R. Tolkien. I'd love to discuss his love for mythology, his Christian faith, his commitment to family – the very things that are important to me.