This week's author interview is with Daniel R. Zuidema. He is the author of the Faithful Learning booklet, Chemistry.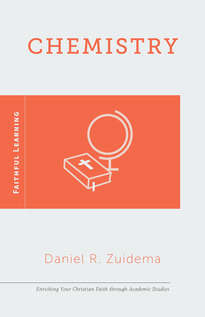 Question #1—Tell us a little bit about yourself: where you're from, family, job, personal interests, unique hobbies, what you do in your spare time, etc.
I grew up in Grandville, Michigan. My first encounter with the South was when my wife and I moved to North Carolina for graduate school—and we have never looked back!
I have been married to my wife Tami for sixteen years and we have four children: Lauren, Nathan, Joseph, and Jacob. During the summers we enjoy traveling to Michigan to visit family and go to the Lake Michigan beaches. I teach full-time at Covenant College and also part-time at Chattanooga Christian School. I love teaching at each of these schools because of the way the Lord has used them to provide opportunities to form deep, meaningful relationships with both students and colleagues.
Question #2—Which writers inspire you?
I have always loved John Calvin's style. I find his Institutes of Christian Religion to be particularly inspiring, especially a lot of the passages in Book I where he writes of our knowledge of God the Creator.
Question #3—Have you always enjoyed writing?
Yes! When I was in 7th grade, my English teacher required us to keep a journal. I loved the way it enabled me to process and express my own ideas through writing. I was one of those peculiar kids who actually enjoyed working through Strunk and White's Elements of Style in my 12th grade English class. I also loved the challenge of crafting the perfect sentence—it is exciting when you think of just the right word with just the right connotations to perfectly capture the thought you wanted to communicate! Writing a PhD dissertation in organic chemistry and various scientific journal articles presented other interesting and unique writing challenges that I also enjoyed. Although it's stuff that will put most people to sleep, I see a certain elegance in the simplicity and succinctness of scientific writing.
Question #4—What inspired you to write this book, about this topic?
Jay Green approached me a few years back asking if I'd be willing to write this volume in the Faithful Learning series. I jumped at the chance to do so. The Lord has allowed me to be a part of the Christian education community ever since pre-school. I teach at a Christian college and high school now. I have a heart for Christian young people, whether they attend Christian schools or not. We need our Christian young people thinking about what it looks like to "do" chemistry in a way that is faithful to their calling to follow Christ and serve him in all aspects of life. I want to help them be intentional about this and to realize the way they pursue the discipline of chemistry is, in a sense, an act of worship. I want them to see that studying chemistry can be a way God deepens their understanding and knowledge of him and, by extension, their relationship with him.
Question #5—Do you have a specific spot where you enjoy writing most?
The Overlook at Covenant College on top of Lookout Mountain! You can see for miles on a clear day from there—it's especially inspiring when thinking about God's self-disclosure in Creation.
Question #6—Other than the Bible, do you have a favorite book?
Yes; it is The Poisoner's Handbook by Deborah Blum. I like the way it weaves an intriguing tale recounting the connection between poisons, murder, and the development of forensic science near the turn of the 20th century in New York City. I find it fascinating to think about how God's sovereign hand has directed the course of history to allow forensic methods to be developed for detecting the presence of various poisons.
We know our God is a God of justice. Forensic science has been useful in bringing many criminals to justice. Also, we can see how God, in his common grace, uses forensic science to restrain evil. In comparison to a century ago, now, people are going to be a lot less likely to attempt murder by poisoning simply because it is so hard to get away with it. Society is safer as a result of the discoveries our Lord has allowed us to make in analytical detection of poisons.
Question #7—Do you have an interesting writing quirk?
When I am in the middle of a writing project, I keep a flashlight, notepad, and pencil next to my bed. That way if I happen to come up with just the right way of putting something in the middle of the night I can write it down! (If I wait until morning, the thought will be gone.)
Question #8—Favorite sport to watch? Why?
I love watching basketball! I am a high school basketball fanatic. As a high school student, I went to all but 11 of our school's 104 games. (Don't ask me how I remember that.) Division III college basketball is good too… as a college student, I did not miss a single home game in four years. It probably helped that I went to schools that won state and national championships. I still love going to games—I go to them with my children now. The atmosphere is so intense, and it is fun when you know the players as either your friends or as your students.
---
Question #9—How can readers discover more about you and your work?
Website: http://www.covenant.edu/academics/undergrad/chemistry/faculty/zuidema