Written in Stone: The Ten Commandments and Today's Moral Crisis by Philip Graham Ryken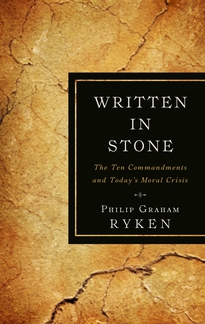 240 pages | $14.99 | Paperback
About
The Ten Commandments are an expression of God's eternal character and have binding force today. Here Philip Ryken offers basic principles for interpreting and applying them—explaining them one by one, illustrating each with a biblical account, and relating each to the person and redemptive work of Jesus Christ.
This is a book to be read and savored. Readers will find themselves examining their own lives, changing their ways, and delighting in newfound grace.
Endorsements
"A tour de force for our times and a much-needed word of clarity in a time of moral confusion. It serves as an antidote to contemporary misrepresentations of the Ten Commandments and a powerful exhortation to Biblical Christianity."
—R. Albert Mohler Jr.
"One of the best popular, practical, and Christ-centered treatments of God's comprehensive moral law available. Providing the right balance between law and gospel, it shows how to use God's law as a mirror to expose our sin and a map to guide our conduct."
—Joel Beeke
"With pastoral care and clarity, Ryken applies timeless theological insights to his exposition. Read Written in Stone, and the fear of God will meet with thanksgiving as the spirit of God writes his law upon your heart."
—Peter A. Lillback
---