Addic­tions: A Ban­quet in the Grave: Find­ing Hope in the Power of the Gospel by Edward T. Welch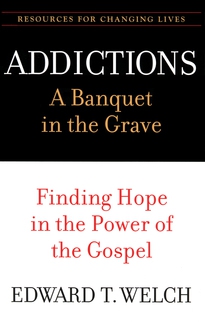 320 pages | $16.99 | Series: Resources for Chang­ing Lives | Pub­lished: 2001
Sum­mary: Scrip­ture reveals addicts' true con­di­tion: like guests at a ban­quet thrown by "the woman Folly," they are already in the grave. (Prov. 9:13–18) Can we not escape our addic­tions? Fol­low­ing Jesus, we have "immense hope that God can give power so that we are no longer mas­tered by the addiction."
About the Author:
Edward T. Welch (PhD, Uni­ver­sity of Utah) serves both the Chris­t­ian Coun­sel­ing and Edu­ca­tional Foun­da­tion (CCEF) and West­min­ster The­o­log­i­cal Sem­i­nary. At CCEF, he is direc­tor of coun­sel­ing and aca­d­e­mic dean, as well as a coun­selor and fac­ulty mem­ber. At West­min­ster, he is pro­fes­sor of prac­ti­cal the­ol­ogy. He is author of Blame It on the Brain and When Peo­ple Are Big and God Is Small and has con­tributed to sev­eral other books and jour­nals, includ­ing the Jour­nal of Psy­chol­ogy and Chris­tian­ity.
What Others Say About This Book:
"One of the most help­ful books pro­vid­ing prac­ti­cal the­ol­ogy on addic­tions. Welch's assess­ment of addic­tions as a prob­lem that pro­ceeds from the heart, involv­ing issues of wor­ship and idol­a­try, is cen­tral to help­ing peo­ple grow and change. This is vital read­ing for church lead­ers, and for friends and fam­ily desir­ing to help those strug­gling with addic­tions." — John Free­man, Har­vest USA
"Destroys the myth that addic­tion is a dis­ease and sin is a sick­ness. Welch shows that the hope­less cycle of 'sick­ness, recov­ery, and relapse' must be replaced with the bib­li­cal view of sin, sal­va­tion, and sanc­ti­fi­ca­tion. As a pas­tor, bib­li­cal coun­selor, and redeemed (not recov­er­ing) ex-heroin addict, I believe Welch has given every pas­tor, parish­ioner, and any­one caught in the bondage of idolatry/addiction a bib­li­cal road map to last­ing free­dom." — Peter Garich, Dayspring Cen­ter for Bib­li­cal Counseling
"Bib­li­cally sound, prac­ti­cal, filled with Christ-like com­pas­sion. . . . This much-needed book offers real hope and the promise of vic­tory in Jesus to those strug­gling with addic­tion." — Robert A. Emberger, Whoso­ever Gospel Mission
________________________________________________________________________________
Our mis­sion is to serve Christ and his church by pro­duc­ing clear, engag­ing, fresh, and insight­ful appli­ca­tions of Reformed theology.
_________________________________________________________________________________