Your Fam­ily, God's Way: Devel­op­ing and Sus­tain­ing Rela­tion­ships in the Home      by Wayne A. Mack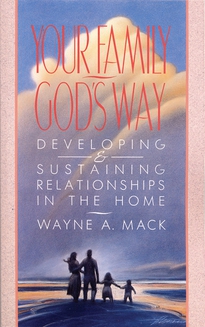 240 pages | $12.99 | Paper­back | Pub­lished: 1991
Sum­mary: Why do some fam­i­lies grow closer, when oth­ers fall apart?
As a hus­band, father of four, and fam­ily coun­selor, Wayne A. Mack knows what makes fam­i­lies tick. Here he offers bib­li­cal insight and prac­ti­cal wis­dom into two cru­cial areas of fam­ily life: com­mu­ni­ca­tion and con­flict res­o­lu­tion. Alert­ing us to the pit­falls of faulty com­mu­ni­ca­tion, such as "under­talk," "overtalk," poor lis­ten­ing, forms of false­hood, and "cir­cuit jam­mers" to com­mu­ni­ca­tion, Mack exam­ines why fam­i­lies fight and explains the key to turn­ing fam­ily dis­cord into harmony.
First­hand suc­cess sto­ries and highly prac­ti­cal appli­ca­tion ques­tions give hope and clear direc­tion to all who wish to build stronger fam­i­lies God's way.
About the Author:
Wayne Mack lives in Pre­to­ria, South Africa, where he serves as a pastor-elder with his son-in-law and teaches bib­li­cal coun­sel­ing at Strength­en­ing Min­istries Train­ing Insti­tute to pas­tors and aspir­ing pas­tors in the region. He also spends about six weeks in the USA teach­ing at var­i­ous churches. He and his wife, Carol, have four adult chil­dren and numer­ous grandchildren.
_____________________________________________________________________________
Our mis­sion is to serve Christ and his church by pro­duc­ing clear, engag­ing, fresh, and insight­ful appli­ca­tions of Reformed theology.
_____________________________________________________________________________