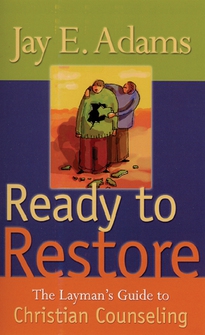 128 pages | Direct Price: $11.99 $9.00 | Paper­back | Released: 1981
Sum­mary: Jay E. Adams is a pio­neer in the field of coun­sel­ing. Here he has taken the most essen­tial ele­ments of coun­sel­ing and pack­aged them in a non­tech­ni­cal vol­ume. The result is nei­ther sim­plis­tic, nor super­fi­cial, but a com­plete, sys­tem­atic course, use­ful for study groups, bible col­leges, church lead­ers, and indi­vid­ual study.
About the Author: 
Jay E. Adams is known for his many books on coun­sel­ing and fre­quent appear­ances at con­fer­ences on Chris­t­ian liv­ing and coun­sel­ing issues. He served for many years on the fac­ul­ties of West­min­ster The­o­log­i­cal Sem­i­nary and West­min­ster Sem­i­nary in Cal­i­for­nia. He is cur­rently the dean of the Insti­tute for Nou­thetic Stud­ies, a distance-learning insti­tu­tion that pro­vides inter­na­tional train­ing in bib­li­cal counseling.
_____________________________________________________________________________
Our mis­sion is to serve Christ and his church by pro­duc­ing clear, engag­ing, fresh, and insight­ful appli­ca­tions of Reformed theology.
_____________________________________________________________________________