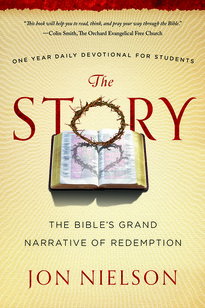 1. The Story: The Bible's Grand Nar­ra­tive of Redemp­tion, One Year Daily Devo­tional for Stu­dents writ­ten by Jon Niel­son
384 Pages | $14.99 | Paperback
Sum­mary: This year­long, daily study of God's Word guides stu­dents through five acts of his grand story of redemp­tion. Daily Scrip­ture and devo­tional read­ings will equip stu­dents to under­stand the unity and devel­op­ment of God's story and to grow in their per­sonal dis­ci­pline of Bible study and prayer.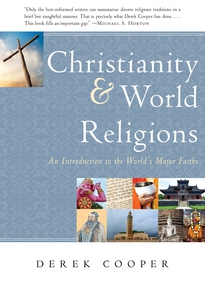 2. Chris­tian­ity and World Reli­gions: An Intro­duc­tion to the World's Major Faiths writ­ten by Derek Cooper
240 Pages | $19.99 | Paper­back | Text­book Lay­out with Color Illustrations
TABLE OF CONTENTS | SAMPLE CHAPTER
Sum­mary: Derek Cooper exam­ines the rival world­views found in Hin­duism, Bud­dhism, Con­fu­cian­ism and Tao­ism, Judaism, Islam, and irre­li­gion. He engages these world­views from a Chris­t­ian per­spec­tive, first by show­ing how the bib­li­cal authors engaged other reli­gions and then by sur­vey­ing the way Chris­t­ian the­olo­gians have done so. Each chap­ter con­tains six parts: (i) a cre­ation story, (ii) the religion's his­tor­i­cal ori­gin, (iii) its beliefs, (iv) reli­gious writ­ings, (v) wor­ship prac­tices, (vi) as well as Chris­t­ian reflec­tions on the reli­gion. For those who would like to read more, the appen­dix includes lists of help­ful pri­mary and sec­ondary books.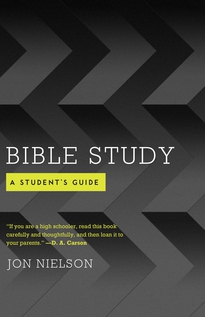 3. Bible Study: A Student's Guide writ­ten by Jon Niel­son
224 Pages | $12.99 | Paperback
TABLE OF CONTENTS | SAMPLE CHAPTER
Sum­mary: Have you ever been to a "Bible study" that didn't have much "Bible" or "study" at all? With­out a proper under­stand­ing of how to do it, stu­dents can be dis­ap­pointed or scared away from study­ing the Bible. So what is Bible study—and can it work for high schoolers?
No stranger to teach­ing the Bible to teenagers, Jon Niel­son con­firms that real, mean­ing­ful Bible study is not only pos­si­ble for stu­dents, but impor­tant. He takes stu­dents seri­ously and expects them to take their faith seri­ously. Unpack­ing five truths about the Bible—that it is God speak­ing, is pow­er­ful, is under­stand­able, is lit­er­ary, and is one story—he demon­strates how the Bible should be stud­ied and how teenagers them­selves can lead that study.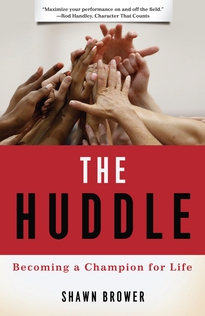 4. The Hud­dle: Becom­ing A Cham­pion for Life writ­ten by Shawn Brower
224 Pages | $14.99 | Paperback
VIDEO | TABLE OF CONTENTS | SAMPLE CHAPTER
Sum­mary: Noth­ing can moti­vate, chal­lenge, and inspire a team to great­ness more than team­mates who are fully ded­i­cated to each other. But this rela­tion­ship doesn't hap­pen on its own. Shawn Brower calls on his 20 years of high school and club coach­ing expe­ri­ence to demon­strate the secrets to train­ing and build­ing bet­ter per­for­mance as a team. In this guide­book, teams will find:
True accounts and quotes from famous Chris­t­ian athletes
Per­sonal eval­u­a­tion ques­tions to help play­ers focus on both their indi­vid­ual and team performance
Scrip­ture quo­ta­tions that have inspired real athletes
Exam­ples from a wide vari­ety of sports, apply­ing the lessons to any team
Learn from Coach Brower how to develop the dis­ci­pline you will need to suc­ceed both as an ath­lete and in the rest of life.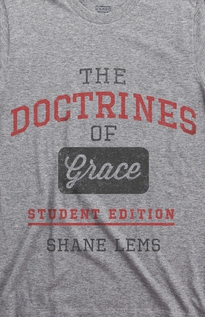 5. The Doc­trines of Grace: Stu­dent Edi­tion writ­ten by Shane Lems
144 Pages | $10.99 | Paperback
TABLE OF CONTENTS | SAMPLE CHAPTER
Sum­mary: A guide for young teens explain­ing in twelve lessons the bib­li­cal and his­tor­i­cal basis of TULIP (Total deprav­ity, Uncon­di­tional elec­tion, Lim­ited atone­ment, Irre­sistible grace, Per­se­ver­ance of the saints). Includes appli­ca­tion, dis­cus­sion ques­tions, and class resources.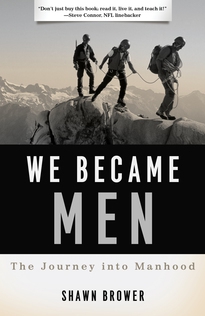 6. We Became Men: The Jour­ney into Man­hood writ­ten by Shawn Brower
240 Pages | $14.99 | Paperback
TABLE OF CONTENTS | SAMPLE CHAPTER
Sum­mary: Life is a jour­ney — a jour­ney of adven­ture, dis­cov­ery, risk, and rev­e­la­tion. Yet, if you are like most young men, you have never been invited to set out on this jour­ney — have never been guided to dis­cover who you are, what you should pur­sue, and who you can become.
This book is the invi­ta­tion you have been wait­ing for: a guide that affirms and val­i­dates young men and empow­ers them to pur­sue man­hood from a bib­li­cal per­spec­tive. It will give you clear vision and direc­tion for your life in vital, life-changing areas such as per­for­mance, temp­ta­tions, rela­tion­ships, idols, bore­dom with life, and much more. Take on the chal­lenge to be a coura­geous man of action and feel more free and alive than you have ever imagined.
FICTION:
The Dark Har­vest Tril­ogy writ­ten by Jere­miah W. Montgomery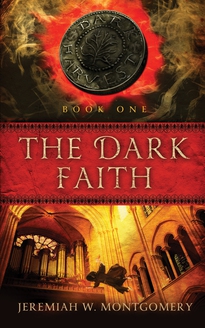 368 Pages | $14.99 | Paperback

Sum­mary: An epic strug­gle against evil com­mences as Moru­mus, a devout monk, seeks to unearth the truth of the Dark Faith. But while he seeks a weapon against it, dark cur­rents drag him toward a dan­ger­ous conspiracy . . .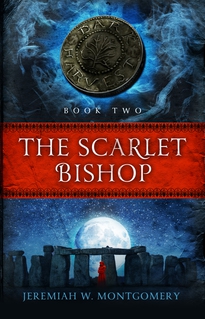 2. The Scar­let Bishop: Book Two

304 Pages | $14.99 | Paperback

Sum­mary: War looms as Moru­mus and Oethur, nar­rowly escap­ing the Red Order, seek Urien's help to deci­pher the secret of the ancient Bone Codex. All the while the Dark Faith's shadow con­tin­ues to spread . . .
3. The Three­fold Cord: Book Three

To be released July 2014...
====================================================================
Like us on Face­book: P&R Pub­lish­ing
Fol­low us on Twit­ter: @prpbooks
====================================================================