Taken: The Quest for Truth, Book 1 by Brock East­man
320 pages | $12.99 | Paper­back | Pub­lished: 2011 | Series: The Quest for Truth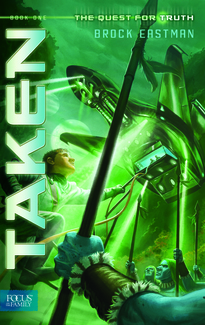 Sum­mary:
"

Five—Four—Three—Two—One!"
"

We're out of here!"

Suit up! Jump into hyper flight with the four Wikk kids! Forced into a high stakes hunt for their miss­ing par­ents by the sin­is­ter Cpt. Vedrik, the sib­lings' only hope is their par­ents' Archeos e-journal. Can Tiffany deci­pher the clues within it? As time runs out, it's all up to Oliver and his Fed­er­a­tion train­ing to fly the Phoenix and pro­tect his crew. But twins Mason and Austin endan­ger the mis­sion when they unex­pect­edly meet . . . the blue boy!
About the Series:
The Quest for Truth series unfolds as the four Wikk kids are thrust into a des­per­ate race to find the mys­te­ri­ous planet Ursprung and stop the Übel rene­gades from mis­us­ing its long-lost secrets. Ancient cities, treach­er­ous vil­lains, high-tech gad­gets, the Phoenix—encounter all of these and more on this futur­is­tic, inter­plan­e­tary adventure!
Taken — Book 1
Risk - Book 2
Unleash - Book 3
The last 2 books in the series are on sched­ule to be avail­able in 2015 and 2016.
About the Author:
 Brock D. East­man is twenty-nine years old and lives at the base of America's Moun­tain with his wife and two daugh­ters. He has the plea­sure of work­ing for Focus on the Fam­ily and on the Adven­tures in Odyssey brand as a Pro­ducer. He loves movie nights with his wife and their stove-popped pop­corn, as well as play­ing pre­tend or read­ing with his daughters.
Brock started writ­ing his first series, The Quest for Truth, in 2005 and five years later with his wife's encour­age­ment signed a pub­lish­ing deal. He has since pub­lished Sages of Dark­ness and a book in The Imag­i­na­tion Sta­tion series. He's always think­ing of his next story and totes a thumb drive full of ideas. Stay tuned for more from Brock and get con­nected with him through Face­book, twit­ter, YouTube, Pin­ter­est, Google +, or here on Word­Press click below.
What Others Say About This Book:
"Taken wastes no time thrust­ing its read­ers head­long into the begin­ning of what promises to be an epic saga." - Christo­pher Miller, Coau­thor of the Award-winning Code­bear­ers Series
"Taken is a riv­et­ing tale of just how far mankind is will­ing to go . . . for the ulti­mate prize." — Wayne Thomas Bat­son, Best­selling Author of The Door Within Trilogy
_____________________________________________________________________________
Our mis­sion is to serve Christ and his church by pro­duc­ing clear, engag­ing, fresh, and insight­ful appli­ca­tions of Reformed theology.
_____________________________________________________________________________