You Can Pray: Find­ing Grace to Pray Every Day by Tim Chester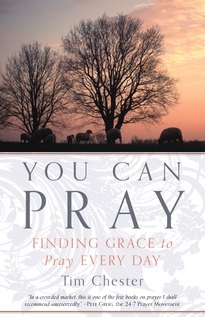 176 pages | $12.99 | Paper­back
Sum­mary: There are no good "pray-ers," but there is one great pray-er — Jesus Christ. Tim Chester shows us how, through Christ, we can become great pray-ers when we know three key truths about God:
• God the Father loves to hear us pray
• God the Son makes every prayer pleas­ing to God
• God the Holy Spirit helps us as we pray
When these truths are in place, we dis­cover why prayer is easy, why prayer is dif­fi­cult, and the argu­ments and pri­or­i­ties of prayer. Prayer is a child's ask­ing her father for help—and that's not beyond any of us. Each chap­ter closes with a sam­ple prayer based on a bib­li­cal text.
About the Author:
Tim Chester is a church leader from Sheffield, Eng­land, the author of You Can Change, and the asso­ciate direc­tor of Porter­brook Seminary.
What Others Say About This Book:
"I am so grate­ful for You Can Pray. It is gra­cious yet chal­leng­ing, acces­si­ble yet the­o­log­i­cally robust. If you've ever won­dered why we need to pray, or how to get bet­ter at it, this book will help you enor­mously." — Pete Greig, Found­ing Cham­pion of the 24–7 Prayer movement
"A very encour­ag­ing and enjoy­able read. It put a spring into my step and got me pray­ing more than I had been." — Sam All­berry, Author of Lifted and Connected
"Enjoy­ment and prayer are words that are not nor­mally asso­ci­ated together, but after read­ing You Can Pray you will not be able to sep­a­rate them! . . . A must-read for any­one who wants to make prayer easy, bib­li­cal, and God-glorifying." - Andrew Chard, Euro­pean Direc­tor for AIM International
_________________________________________________________________________________
Our mis­sion is to serve Christ and his church by pro­duc­ing clear, engag­ing, fresh, and insight­ful appli­ca­tions of Reformed theology.
_________________________________________________________________________________