The New Man: Becom­ing a Man After God's Heart by Dan Dori­ani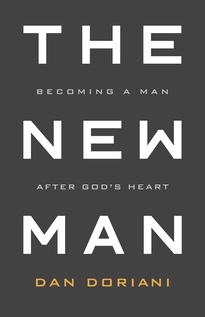 280 pages | List Price: $14.99 | Paper­back
Sum­mary: Dan Dori­ani under­stands the chal­lenges of being a man, and he knows you don't need more man-made lists to excel as a hus­band, father, or leader. The new man in Christ is shaped by know­ing God through his Word, because the way of a godly man is the way of his God.
With a focus on hon­ing char­ac­ter rather than fol­low­ing tech­niques, Dori­ani seeks out the bib­li­cal pat­tern for mas­culin­ity that tran­scends cul­ture. Dis­cover how you can reflect God's char­ac­ter in mar­riage, friend­ships, wealth, work, fit­ness, play, and more. You won't find check­lists for self-improvement (or three ways to grill a steak), but you will find clar­ity, insight, hon­esty, encour­age­ment, and free­dom in the Man who is ulti­mately our Sav­ior, not just our exam­ple. You'll even find ideas for games to play with your kids!
Each chap­ter includes ques­tions for group study or dis­cus­sion with spouses. This is a revised and expanded edi­tion of The Life of a God-Made Man (Cross­way, 2001).
About the Author:
Daniel M. Dori­ani is vice pres­i­dent of strate­gic aca­d­e­mic projects and pro­fes­sor of the­ol­ogy at Covenant The­o­log­i­cal Sem­i­nary. Pre­vi­ously he was senior pas­tor of Cen­tral Pres­by­ter­ian Church in Clay­ton, Mis­souri. Some of his books include: Putting the Truth to Work, The Ser­mon on the Mount, Get­ting the Mes­sage, and James, Matthew (2-Volume Set), 1 Peter, and The Incar­na­tion in the Gospels in the Reformed Expos­i­tory Com­men­tary series.
What Others Say About This Book:
"An acces­si­ble, bib­li­cal, and inspir­ing vision for man­hood. I rec­om­mend it to Chris­t­ian men everywhere."
—Dar­rin Patrick, Author of The Dude's Guide to Man­hood and The Dude's Guide to Marriage
"Dan is a proven thinker and leader. . . . He has some­what mirac­u­lously man­aged to peel away the pop­u­lar, overly-sensitive-to-public-opinion rein­ter­pre­ta­tion of what it means to be a man, while at the same time remained sen­si­tive to the cul­tural moment in which believ­ers must actu­ally live out their faith. No small feat!"
—Patrick Mor­ley, Founder of Man in the Mirror
"Dan Doriani's book will be a feast for your heart and life to your soul. It will bring you pur­pose and mean­ing and offer a free­dom that can be expe­ri­enced and real­ized only with a heart poised toward God. The New Man will equip men to lead coura­geously and to leave a godly legacy for gen­er­a­tions to come!"
—Shawn Brower, Author of We Became Men and The Hud­dle
---
Our mis­sion is to serve Christ and his church by pro­duc­ing clear, engag­ing, fresh, and insight­ful appli­ca­tions of Reformed theology.
---