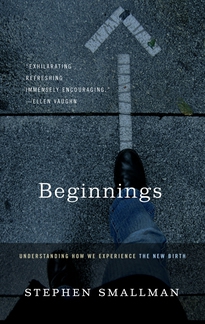 208 pages | List Price: $12.99 | Paper­back
Sum­mary: Are Chris­tians sup­posed to be spir­i­tual sales­peo­ple, ped­dling Jesus to oth­ers and push­ing to seal the deal?
In John 3, Jesus describes the work of the Holy Spirit in a process of spir­i­tual rebirth. In light of this, Stephen Small­man argues that we best view our­selves as "spir­i­tual midwives"—not giv­ing new life, but instead being used by God to assist in the birth.
To best do this, we must under­stand how con­ver­sion works and where our spir­i­tual jour­neys begin. Fol­low­ing the tra­di­tion of Jonathan Edwards and Archibald Alexan­der, Small­man unpacks numer­ous con­ver­sion sto­ries, both bib­li­cal and con­tem­po­rary, show­ing how the Holy Spirit's work can be traced in the lives of new believers.
Small­man shows how we can learn the sto­ries of oth­ers and tell our own sto­ries. Then we will under­stand where peo­ple are com­ing from as we inter­act with them, and we will have both hope and guid­ance in speak­ing with unbelievers.
About the Author:
Stephen Small­man served for over forty years in pas­toral min­istry. He is an urban mis­sion­ary serv­ing with CityNet Min­istries and is Assis­tant Pas­tor of New Life Pres­by­ter­ian Church in Glen­side, Penn­syl­va­nia. He is the also the author of The Walk: Steps for New and Renewed Fol­low­ers of Jesus, Under­stand­ing the Faith, New ESV Edi­tion: A Work­book for Com­mu­ni­cants Classes and Oth­ers Prepar­ing to Make a Pub­lic Con­fes­sion of Faith, and 4 Basics of Faith booklets.
What Others Say About This Book:
"In place of our too-often clichéd born-again nar­ra­tives, Small­man guides us to a richer under­stand­ing that is won­der­fully pro­found and reas­sur­ingly prac­ti­cal." — Mindy Belz, Edi­tor, WORLD
"Begin­nings . . . gave me an inter­pre­tive frame­work of [the] new birth that was not only more accu­rate, all-embracing, and truth­ful but, more impor­tantly, God-centered." — Rico Tice, Founder and Pres­i­dent, Chris­tian­ity Explored
"In a com­pelling way Stephen Small­man helps us under­stand . . . the super­nat­ural work of the Holy Spirit. This book will prove prof­itable to all who read it." — Jerry Bridges, Author, The Pur­suit of Holiness
_____________________________________________________________________________
Our mis­sion is to serve Christ and his church by pro­duc­ing clear, engag­ing, fresh, and insight­ful appli­ca­tions of Reformed theology.
_____________________________________________________________________________