336 pages | $24.99 | Paper­back | Pub­lished: 2012
To read a sam­ple chap­ter of the book, click HERE
To read the table of con­tents, click HERE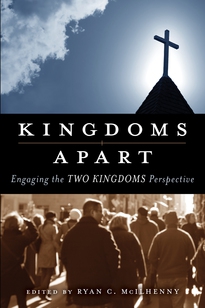 Sum­mary: The sub­ject of Christ and cul­ture has occu­pied the church since its incep­tion. Some empha­size the real­ity of redemp­tion and the imper­a­tive of cul­tural trans­for­ma­tion; oth­ers crit­i­cize this approach because of the tran­sient nature of this cur­rent life and the spe­cific func­tion of "king­dom" activity.
This project focuses on the two com­pet­ing posi­tions rooted in the Reformed tra­di­tion: neo-Calvinism, a nineteenth-century school of thought asso­ci­ated with the Calvin­ist poly­math Abra­ham Kuyper, and the Two King­doms perspective.
How you think on this issue will affect how you inter­act with the cul­ture around you. It's an impor­tant debate because we want to speak God's words fairly into that culture.
What Others Say About This Book:
"

This is not only an aca­d­e­mic debate. The out­come of the debate will have broad impli­ca­tions for Chris­t­ian schools, col­leges, sem­i­nar­ies, and churches and for Chris­tians in the acad­emy, pol­i­tics, busi­ness, the arts, and other realms of cul­tural activity."
— Gideon Strauss, Senior Fel­low, Cen­ter for Pub­lic Jus­tice, Wash­ing­ton, 
DC
"

I have prayed for wise and coura­geous schol­ars to step up—and step into—this fra­ter­nal debate within the Reformed Chris­t­ian com­mu­nity con­cern­ing Two King­doms. I am prais­ing God, there­fore, for . . . King­doms Apart."
— Michael A. Mil­ton, Chancellor/
CEO

, James M. Baird, Jr. Pro­fes­sor of Pas­toral The­ol­ogy, Reformed The­o­log­i­cal Seminary

 
"

A very fine col­lec­tion of essays . . . a valu­able and con­struc­tive advance in the often heated debates sur­round­ing the themes it treats."
— Al Wolters, Pro­fes­sor of Reli­gion and Theology/Classical Lan­guages, Redeemer Uni­ver­sity Col­lege, Ancaster, Ontario
"

This book engages this con­ver­sa­tion, and deserves a care­ful hear­ing by all who believe God has made Jesus of Nazareth the right­ful and ulti­mate king of everything."
— Rus­sell D. Moore, Dean, South­ern Bap­tist The­o­log­i­cal Seminary
About The Editor:
Ryan C. McIl­henny (Ph.D., Uni­ver­sity of Cal­i­for­nia, Irvine) is Pro­fes­sor of His­tory and Human­i­ties at Prov­i­dence Chris­t­ian Col­lege in Pasadena, California.
_________________________________________________________________________________
Our mis­sion is to serve Christ and his church by pro­duc­ing clear, engag­ing, fresh, and insight­ful appli­ca­tions of Reformed theology.
_________________________________________________________________________________