This week for our author interview, we hear from Starr Meade, author of Training Hearts, Teaching Minds: Family Devotions Based on the Shorter Catechism; Grandpa's Box: Retelling the Biblical Story of Redemption; and Comforting Hearts, Teaching Minds: Family Devotions Based on the Heidelberg Catechism.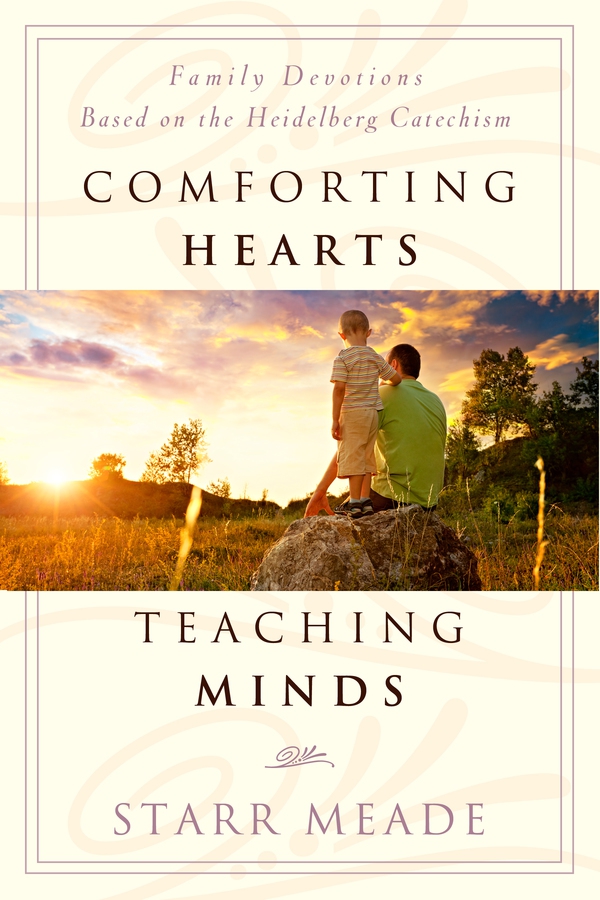 Tell us a little bit about yourself: where you're from, family, job, personal interests, unique hobbies, what do you do in your spare time, etc.
I grew up in the deserts of Arizona. I've lived here almost my entire life. I married young—and happily—and have three children and, at this moment, five grandsons. I have served as a missionary in France, worked as a director of children's ministries in a local church, and taught in a Christian school. Oh—and I've driven a tractor and a swather in Idaho! Besides writing, I teach homeschooled teenagers in humanities-type classes. I also volunteer as a CASA, a national organization that advocates for children in foster care. I teach Sunday school with my husband (4th-6th grade). I love to read, play WordChums, be outside, see new places, and watch movies. And I collect gargoyles.
When did you first want to write a book?
I've always loved writing and I have always wanted to write a book—I just assumed I wouldn't get published.
Which writers inspire you?
Bach (a writer of music, of course). Bach wasn't famous in his time. People thought he was good, but not necessarily exceptional. But he didn't write in order to be famous. He wrote, day in and day, as his musical compositions say at the bottom, for the glory of God. He ministered in his church, faithfully writing music for his choir to sing, and supported his family by giving music lessons–and just kept writing and writing because God had made him able to compose so he did, famous or not. Later, everyone—and I mean everyone—came to understand that the man was brilliant, but by then he didn't care anyway, because he was hearing the "Well done, good and faithful servant" of the Lord for whom he'd done all that writing.
What inspired you to write this book, about this topic?
A new pastor at my church years ago wanted the congregation to memorize The Westminster Shorter Catechism. I wanted the children who were memorizing it to understand what they were memorizing, so I wrote a weekly bulletin insert with short daily devotional readings based on the catechism question of the week. That eventually became Training Hearts, Teaching Minds. I always thought I should do another based on The Heidelberg Catechism. So I finally have, and that's why there is a Comforting Hearts, Teaching Minds.
Do you have a specific spot that you enjoy writing most?
The library or a local coffee/breakfast spot.
What books are you reading now?
N. D. Wilson's Notes from the Tilt-a-Whirl (and loving it!), Charles Hodge's Commentary on 1 Corinthians, C. S. Lewis's Till We Have Faces, 100 Short Stories of Ray Bradbury, and Heroes and Heretics: How Renaissance Artists and Reformation Priests Created our World by Thomas Cahill.
Other than the Bible, do you have a favorite book?
Many. I love Samuel Rutherford's Letters; I love Les Miserables, and A Tale of Two Cities, and The Count of Monte Cristo (I seem to have a French theme going here). More recent books I've enjoyed are Kevin DeYoung's The Good News We Almost Forgot and Ray Ortlund, Jr.'s Isaiah: God Saves Sinners, and the fictional Atticus by Ron Hansen.
Do you have a favorite author? Who is it and why?
Charles Dickens. He can write about anything in such a way that it entrances. He can take several pages to describe a door knob and I am enthralled!
Do you have a favorite movie? What is it and why?
The Lord of the Rings trilogy is pretty amazing!
Do you have a favorite quote? What is it and why?
Samuel Rutherford: "Duties are ours, events are the Lord's." It reminds me to be faithful and leave the rest to God. Also, Jim Elliot: "We give thanks for the given, not letting the not given spoil it."
What advice would you give to aspiring writers?
1. Take the time to learn English grammar well. You cannot write intelligibly without it.
2. Anything worth doing is worth doing poorly until you can do it well.
3. Don't let sales or fame or money be your motivation. You will probably be frustrated.
Do you have a favorite book that you have written?
That's like asking if I have a favorite child I've parented!
At what time of day do you write most?
Before noon.
How do you deal with writer's block?
Write anyway. Get words down on paper. I can go back and edit, revise, or even start over later.
What has been the toughest criticism given to you as an author? What has been the best compliment?
It's not exactly giving a compliment, but when people are thoughtful enough to write or tell me personally how one of my books has been helpful, it's so encouraging! It seems to me that people have been pretty kind about my writing, so I have no hurtful criticisms to note.
Favorite sport to watch? Why? Favorite sport's team?
Rodeo. I grew up with it.
It's a beverage and has absolutely no nutritional value—coffee.
Favorite flavor of ice cream?
Sweet cream with Heath bar.
Horses. I desperately wanted a horse as a child and finally owned one, then another as a teenager. I still love them.
Lord of the Rings or The Chronicles of Narnia? Why?
Apples to oranges. No fair.
What famous person (living or dead) would you like to meet and why?
Bach. See "Which writers inspire you?"
If you have a favorite book of the Bible, what is it and why?
Isaiah. It's so beautifully written, and all the bright light of the gospel shines so much more gloriously against the dark gloom of the coming punishment it describes.
=====================================================================
Want to learn more about Starr Meade?
Visit her website: http://www.starrmeade.com/
=====================================================================