This week we get to learn more about Brad Bigney, author of Gospel Treason: Betraying the Gospel with Hidden Idols.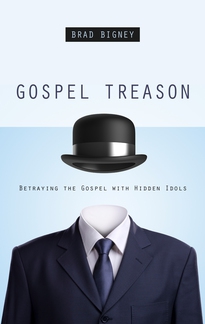 Tell Us a Little About Yourself.
I am an ordained minister with the Evangelical Free Church of America. I graduated from Columbia Bible College and Columbia Biblical Seminary in South Carolina. I am a certified biblical counselor with ACBC (Association of Certified Biblical Counselors) and am involved in the counseling ministry of the church, as well as teaching at other conferences and training centers across the nation. I have been serving as the senior pastor of Grace Fellowship Church since January 1996. My wife, Vicki and I have five wonderful children that God has used to teach me so much.
What made you want to write this book?
As a pastor and certified ACBC counselor, I have counseled each year, for the past twenty years, and the issue of idolatry is consistently at the heart of most people's struggle because it has to do with why we can't seem to really change long-term.
Also, the subject of idolatry more than any other has been one of the great awakenings in my life.  My salvation was first, followed by an understanding of the sovereignty of God over all things, followed, several years later, by an understanding of the idols of my own heart.  This was a major breakthrough for me in understanding why I do what I do, and why it's so hard to consistently put to death certain sins. And the breakthrough came in the context of wrestling through a terrible marriage even while I was serving as full-time pastor.
What kind of response have you received in regard to this book?
So far the response has been fantastic. Many people have said that since it is so personal is was hard to read but that it produced great fruit in their lives.
I love to spend time with my family, work in the yard, bike with my wife, read great books, and watch the NFL.
What Is Your favorite flavor of ice cream?
My favorite flavor is Graeter's Black Raspberry Chocolate Chip ice cream.
======================================================================
Want to learn more about Brad?
Follow Brad Bigney on Twitter: @BradBigney
======================================================================