John (2 Volume Set) by Richard D. Phillips
1,488 Pages | $59.99 | Casebound | Series: Reformed Expository Commentary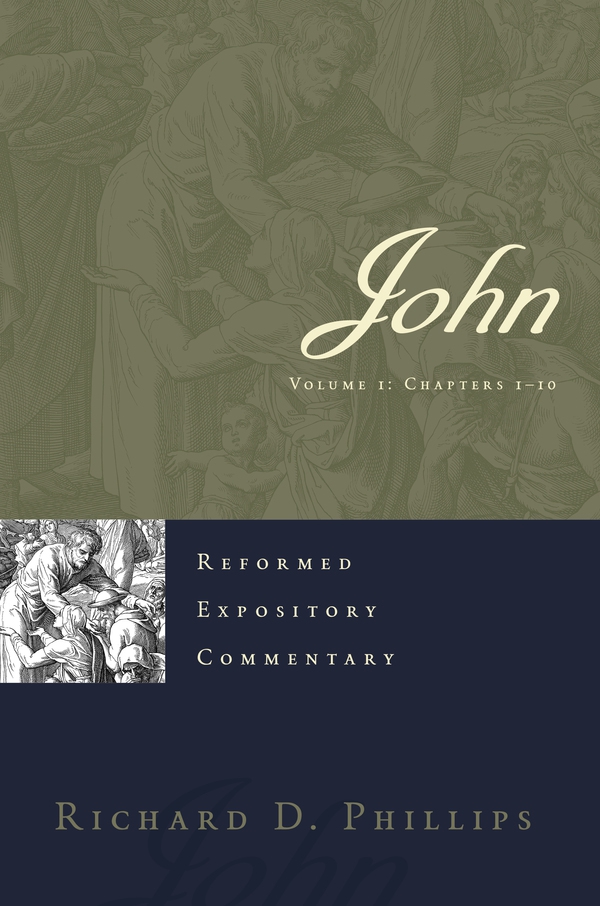 Summary: Practical, devotional, and expositional, these two volumes examine the apostle John's focus on salvation through faith in Jesus, Christ's deity, and the church's witness. Useful for pastors or group leaders.
Series Editors: Richard D. Phillips & Philip Graham Ryken

Testament Editors: Iain M. Duguid, Old Testament & Daniel Doriani, New Testament
What Others Are Saying About this Book:
"Richard Phillips' exposition of John explains the text clearly, but it also sings, marvels, and gets its hands dirty in real life illustrations. What a terrific combination of biblical exegesis, doctrine rooted in the Reformation, and practical application! This is a great sermon commentary for pastors and an extremely helpful book for all other Christians who desire to grow in their love for the one who said, 'I am the way, the truth, and the life.'"
– Joel R. Beeke, President, Puritan Reformed Theological Seminary, Grand Rapids, Michigan
"Rick Phillips' two volumes will become constant friends and 'go-to' companions for those charged with the daunting task of preaching the depths of the fourth Gospel. The whole of Phillips' work maintains an unwavering focus on the apostle John's grand purpose of leading his readers to believe that 'Jesus is the Christ, the Son of God' – so that each exposition is gospel-rich. . . . The fact that these expositions have been delivered in the living context of the church gives them a depth and piquancy that many of the standard commentaries lack. Those who preach the Word will also find these volumes full of fresh insights and homiletical inspiration – good friends indeed."
– R. Kent Hughes, Senior Pastor Emeritus, College Church, Wheaton, Illinois
"Although commentaries on the Gospel of John abound, far too few of them combine careful scholarship, deep theological reflection, and a pastoral heart.  Thankfully, this commentary by Rick Phillips is one of those few.  Clearly born out of many years of preaching and teaching, this commentary is a must-read for modern-day pastors who not only want to understand the text but also want to apply it to the lives of those in their congregation."
– Michael J. Kruger, President and Professor of New Testament, Reformed Theological Seminary, Charlotte, North Carolina
About the Author:
Richard D. Phillips (MDiv, Westminster Theological Seminary) is the senior minister of Second Presbyterian Church of Greenville, South Carolina. He is a council member of the Alliance of Confessing Evangelicals, chairman of the Philadelphia Conference on Reformed Theology, and coeditor of the Reformed Expository Commentary series.
Reformed Expository Commentary Series:
_________________________________________________________________________________
Our mis­sion is to serve Christ and his church by pro­duc­ing clear, engag­ing, fresh, and insight­ful appli­ca­tions of Reformed theology.
_________________________________________________________________________________