Legacy of Faith: From Women of the Bible to Women of Today by Lydia Brownback
240 pages | $14.99 | Paperback | Published: 2002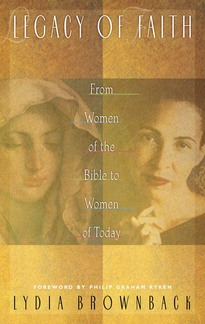 Summary: Following examples of women of faith is a great way to learn how to become women of God. And the best examples are from the true stories in the Bible. Not all the women of the Bible were faithful to Christ. But we can learn from past women's failures as well as their triumphs. Legacy of Faith highlights twenty-four of the Bible's most prominent women. Brownback offers insight and practical application for today's women. She reveals how we can claim the same promises of Christ as these women did—because God is the same yesterday, today, and forever.
About the Author:
Lydia Brownback is the author of several books and a speaker at women's conferences internationally. When time allows, Lydia blogs at The Purple Cellar (purpleceller.com). Her past work includes director of editorial for Crossway's Book Division; writer-in-residence for Reverend Alistair Begg; and broadcast media manager for Alliance of Confessing Evangelicals, where she produced The Bible Study Hour radio program with James Montgomery Boice. Lydia holds degrees from Syracuse University and WTS.
What Others Say About This Book:
"Women lead stressful lives and often feel that doctrine isn't practical in helping with their problems. Your mind will change on that one – and your heart. Readers will find themselves joining the chorus of mothers and sisters in The Legacy of Faith." – Michael S. Horton
"How can women seeking to live satisfying lives choose the right path? Brownback tackles this question by choosing twenty-four biblical women and exploring their success and failures when confronted by God's slaim on their lives. There insights show we can continue to learn from women of Scripture." – Linda M. Boice
"An exciting read, perfect for group studies or individual devotion. Brownback is a sensitive reader of the ancient text who knows how it transforms lives today. This is about women of the Bible, bu men and women should read it." – Tremper Longman III
"Identifies out propensity to direct our lives outside of God's call. Brownback directs us to recognize our own folly and shows God's work to set our feet on his path. An excellent book to stimulate us in obedience." – Vesta Sproul
_________________________________________________________________________________
Our mis­sion is to serve Christ and his church by pro­duc­ing clear, engag­ing, fresh, and insight­ful appli­ca­tions of Reformed theology.
_________________________________________________________________________________