240 pages | $14.99 | Paperback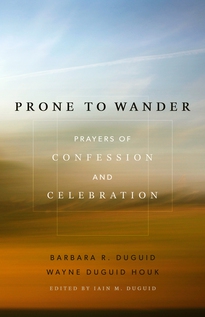 Summary: "We have left undone those things which we ought to have done; and we have done those things which we ought not to have done." But what are "those things"? Why do we confess them?
The purpose of confessing our sins is not simply to remind us what great sinners we are, but rather to point us to the great Savior we have. Inspired by the Puritan classic The Valley of Vision, this book provides specific prayers of confession in response to particular Scripture passages. They are ideal for use in church or in personal devotions.
These prayers thank God for Jesus' perfect righteousness and substitutionary atonement for our sins and ask for the help of the Spirit in pursuing holiness. They close with a scriptural assurance of pardon in Christ for the sins of God's people. Appendices include the hymns referenced in each prayer, as well as the sermon texts that accompanied these confessions as they were originally used in worship services.
About the Authors:
Barbara R. Duguid is a counselor and ministry assistant at Christ Presbyterian Church (ARP) in Grove City, Pennsylvania, where she crafts the weekly liturgy. She is a pastor's wife and the mother of six children, and she holds an advanced certificate in biblical counseling from the Christian Counseling and Educational Foundation in Glenside, Pennsylvania.
Wayne Duguid Houk is the events director and conference planner at Christian Counseling and Educational Foundation in Glenside, Pennsylvania.
Iain M. Duguid is professor of Old Testament at Westminster Theological Seminary, Philadelphia. He has written numerous works of biblical exposition, including Esther & Ruth and Daniel in the Reformed Expository Commentary series, Ezekiel in the NIV Application Commentary series, and Numbers in the Preaching the Word series.
What Others Say About This Book:
"I find it easier to learn about God than to talk to him. These devotionals and prayers assist me in doing both, with the added benefit that they inspire me to pray those prayers with others."
— Edward T. Welch, Faculty Member, Christian Counseling and Educational Foundation
"Duguid and Houk show how the heart longing for reconciliation with God can find peace and beauty in biblical confession. . . . help[ing] us to face the bitter to taste the sweet."
—Bryan Chapell, Senior Pastor, Grace Presbyterian Church
"This book has many virtues. One is its flexibility in being adaptable to a range of situations, including public worship and private devotions. . . . I love its overall aims and method."
—Leland Ryken, Professor of English, Wheaton College