This week's author interview is with Zack Eswine, author of Recovering Eden: The Gospel According to Ecclesiastes. This is the 15th and most recent book in our Gospel According to the Old Testament series.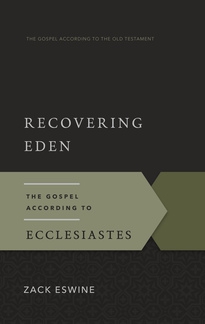 Question #1 – Tell us a little bit about yourself
I was born and raised in Southern Indiana. Henryville is my childhood hometown. But I've spent a great deal of time in "the Knobs" too. Now, I'm a pastor. With my family, I work and rest in Webster Groves, Missouri.
Question #2 – Did you always enjoy writing?
When I was younger I enjoyed the thought of writing but not the work of it. I liked the sounds of words and I liked to connect them. I imagined with ambition the enjoyment of having my own books that people read. But a funny thing happens. When your first book releases, you still have to take out the trash or brush your teeth or buckle beneath a pain that undoes you that day. So, I suppose over time "enjoyment" in writing has changed its quality. I suppose I've had to learn the hard work warranted by the craft. Perhaps my early enjoyment more resembled the delight of tasting an apple-flavored candy. The candy colors the tongue green for a moment. We look in the mirror or make faces at friends. But now "enjoyment" in writing feels more like bone and ache. The stiff back and body soak of sweat from digging dirt without shade until finally the sun decides to back off. Evening breeze and cool water whisper and wait until finally we get to ease deep into our favorite chair next to our favorite people and hear those inviting words. "Dinner is ready. "
Question #3 – What inspired you to write this book?
Two reasons. Personally, I find great help and comfort from the book of Ecclesiastes. Pastorally, I have found that Christians unfamiliar with this book are sorely disadvantaged in the way they try to approach God and to do life as a Christian. I have also found that those who aren't Christians can find genuine help in this book.
Question #4 – Do you have a specific spot and/or time that you enjoy writing the most?
As a pastor and as a family man, I have to follow the seasons and find my times within them. Sometimes this means I'm writing late at night, or within a nook of afternoon. I rarely write early in the morning, though I can if I need to. My favorite spot is outside, near some trees, next to some kind of water, like a pond or lake. But on most occasions I'm in my upstairs hallway next to a window at a desk.
Question #5 – How do you deal with writer's block?
Everyone is different on this of course. For me, I've tried the wisdom that says, "push through and write anything, don't edit it, and see what you discover." Sometimes I do this. But more often than not, I'm realizing that I need to stop. Get up, go for a walk in my little upstairs hallway or step outside, feel the wind, walk around the neighborhood or even take a shower. Often thoughts begin to flow again. If they don't, I'm learning to assume that I'm not ready to write that section. It isn't well enough formed or understood within me yet. I have to surrender to the fact that I need to live a bit more of life than I want to in order to write about this subject that stalls me. Until then, I will move on to a different subject or idea. I try to ride whatever wave will let me catch hold for as long is it will take me. Even if it isn't the wave I wanted to ride that day.
Question #6 – Which Writers Inspire You?
Different writers for different reasons during different seasons of my life. Wendell Berry, Kathleen Norris, Donald Hall, Czeslaw Milosz, and Mary Oliver have put places into poetry. Marilynne Robinson has done this also with her novels. Eugene Peterson has done the same for me in terms of thinking about pastoral ministry with a local people and place. Pastor/Poet/Novelists like Georges Bernanos or Gerard Manley Hopkins inspire me as a pastor who writes. Francis Schaeffer and Jerram Barrs help me think about the world. John Calvin, Martyn Lloyd Jones, and Charles Spurgeon teach me prayer and Spirit dependence upon God. Leighton Ford helps me pay attention to Christ moment by moment.
_______________________________________________________________________________
Want to learn more about Zack Eswine?
Read his blog: http://preachingbarefoot.com/
Visit his website: http://www.zackeswine.com/
_______________________________________________________________________________