Taken: The Quest for Truth, Book 1 by Brock Eastman
320 pages | $12.99 | Paperback | Published: 2011 | Series: The Quest for Truth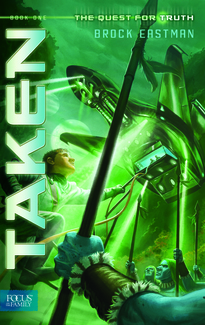 Summary:
"Five—Four—Three—Two—One!"
"We're out of here!"
Suit up! Jump into hyper flight with the four Wikk kids! Forced into a high stakes hunt for their missing parents by the sinister Cpt. Vedrik, the siblings' only hope is their parents' Archeos e-journal. Can Tiffany decipher the clues within it? As time runs out, it's all up to Oliver and his Federation training to fly the Phoenix and protect his crew. But twins Mason and Austin endanger the mission when they unexpectedly meet . . . the blue boy!
About the Series:
The Quest for Truth series unfolds as the four Wikk kids are thrust into a desperate race to find the mysterious planet Ursprung and stop the Übel renegades from misusing its long-lost secrets. Ancient cities, treacherous villains, high-tech gadgets, the Phoenix—encounter all of these and more on this futuristic, interplanetary adventure!
Taken – Book 1
Risk – Book 2
Unleash – Book 3
The last 2 books in the series are on schedule to be available in 2015 and 2016.
About the Author:
 Brock D. Eastman is twenty-nine years old and lives at the base of America's Mountain with his wife and two daughters. He has the pleasure of working for Focus on the Family and on the Adventures in Odyssey brand as a Producer. He loves movie nights with his wife and their stove-popped popcorn, as well as playing pretend or reading with his daughters.
Brock started writing his first series, The Quest for Truth, in 2005 and five years later with his wife's encouragement signed a publishing deal. He has since published Sages of Darkness and a book in The Imagination Station series. He's always thinking of his next story and totes a thumb drive full of ideas. Stay tuned for more from Brock and get connected with him through Facebook, twitter, YouTube, Pinterest, Google +, or here on WordPress click below.
What Others Say About This Book:
"Taken wastes no time thrusting its readers headlong into the beginning of what promises to be an epic saga." – Christopher Miller, Coauthor of the Award-winning Codebearers Series
"Taken is a riveting tale of just how far mankind is willing to go . . . for the ultimate prize." – Wayne Thomas Batson, Bestselling Author of The Door Within Trilogy
_____________________________________________________________________________
Our mis­sion is to serve Christ and his church by pro­duc­ing clear, engag­ing, fresh, and insight­ful appli­ca­tions of Reformed theology.
_____________________________________________________________________________