Creation: A Witness to the Wonder of God by Mark D. Futato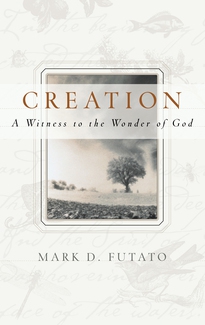 136 pages | $8.99 | Paperback | Published: 2000
Summary: When we are gripped by a true vision of God, our lives take on true meaning. This book opens our eyes to God's majestic nature as revealed in his creation.
About the Author:
Mark D. Futato (MDiv, Westminster Theological Seminary; MA, PhD, Semetic Languages and Literature, The Catholic University of America) is Professor of Old Testament at Reformed Theological Seminary, Orlando campus. He has written widely on creation and the natural world in biblical studies.
What Others Say About This Book:
". . . an easy-to-read, but deeply rooted explanation of how the creation manifests the attributes of our God. Full of insightful explanations of the Scriptures and packed with practical applications, this book will be marvelous for your personal devotions as well as group study. . . . a striking example of how clear teaching from the Bible will bear the fruit of faithful love and service." – Richard L. Pratt, Jr.
"Futato gently, but confidently guides us back to our Creator, who displays to us his glory, power, wisdom, love, justice, and faithfulness in the very act of creation. I enthusiastically recommend this book to everyone who wants to know God better." – Tremper Longman III
". . . a moving and informative account of the testimony creation gives to God. [Futato's] work has the precision and nuance born of long an erudite study, especially of the Psalms. It also has a gentle spirituality born of patient meditation on all of God's creation and on the life of the believer within it." – Daniel M. Doriani
_____________________________________________________________________________
Our mis­sion is to serve Christ and his church by pro­duc­ing clear, engag­ing, fresh, and insight­ful appli­ca­tions of Reformed theology.
_____________________________________________________________________________