An Introduction to the Science of Missions by J. H. Bavinck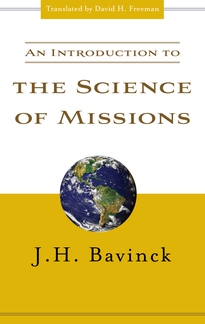 352 pages | Direct Price: $18.99 $13.00 | Paperback | Published: 1960
Summary: For several decades, this book has been recognized as an important textbook in the field of missions. Now not only foreign missionaries, but also pastors and elders faced with an increasingly unchurched culture at home can find in this work the invaluable guidance they need.
About the Author:
J. H. Bavinck (1895–1964) was a pastor in the Dutch Reformed Church and a missionary in Indonesia. He was also professor of missions and practical theology at Kampen and Free University in Amsterdam, where his uncle, Herman Bavinck, famously served as professor of dogmatics.
What Others Say About This Book:
"Bavinck organizes his excellent book into three parts. Part I concerns the theory of missions. Here he reviews the nature, foundations, aims, and approach of missions by carefully reviewing Scripture and history. Part II considers the role of elenctics, and Part III addresses the history of missions . . . . For careful exegesis, fidelity to Scripture, and precision, Bavinck cannot be bettered."
– The Christian Sociologist
_____________________________________________________________________________
Our mis­sion is to serve Christ and his church by pro­duc­ing clear, engag­ing, fresh, and insight­ful appli­ca­tions of Reformed theology.
_____________________________________________________________________________