The Flow of the Psalms: Discovering Their Structure and Theology by O. Palmer Robertson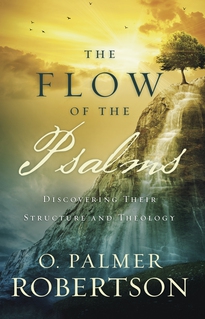 304 pages | List Price: $21.99 | Paperback | SAMPLE CHAPTER
Summary: For centuries the book of Psalms has been read as a random collection of poems with no intentional arrangement. But is this a correct understanding?
O. Palmer Robertson equips us to see a clear redemptive-historical progression that develops across the five books of Psalms. With the aid of charts in full color, he demonstrates how an intentional structure is indicated by elements such as the placement of acrostic psalms, strategic couplings of Messianic psalms with Torah psalms, and the grouping of psalms by topics.
If you love the psalms, Robertson will give you a better grasp of the whole Psalter and a deeper appreciation of each individual poem.
To download a free PDF of Dr. Robertson's groundbreaking full-color charts of the structure of the Psalms, click here. The PDF may be printed, photocopied, distributed, and used for noncommercial purposes, with appropriate credit.
About the Author:
O. Palmer Robertson (ThM, ThD, Union Theological Seminary, Virginia) is director and principal of African Bible College, Uganda. He previously taught at Reformed, Westminster, Covenant, and Knox Seminaries. Robertson also wrote The Christ of the Covenants, The Christ of the Prophets, The Israel of God, and Understanding the Land of the Bible.
What Others Say About This Book:
"With his customary clarity and insight, Robertson presents a psalter that is at once theologically rich, historically relevant, and practically impactful."
—John Scott Redd Jr., Reformed Theological Seminary
"Easily understood and available to serve pastors and other church leaders as they preach and teach Christ from the Psalms. . . . One of the very best studies of this part of Scripture."
—Richard L. Pratt Jr., Third Millennium Ministries
"A pleasure to read! . . . Robertson's fresh and insightful work on this majestic book of Scripture is sure to expand your mind, warm your heart, and open your mouth to join with all creation in shouts of 'Hallelu-YAH.'"
—Douglas Sean O'Donnell, Queensland Theological College
"A courageous and thought-provoking proposal to read the Psalter afresh. Palmer Robertson argues that the Psalms exhibit . . . an organized development of thought progression from the beginning to the end. . . . His joy of discovery is contagious."
—Eric Peels, Theological University Apeldoorn
---
Our mis­sion is to serve Christ and his church by pro­duc­ing clear, engag­ing, fresh, and insight­ful appli­ca­tions of Reformed theology.
---