Between interviews and blog features, Aimee Byrd's newest book Theological Fitness: Why We Need a Fighting Faith is creating quite a buzz. Check out what others are saying about Aimee's book below.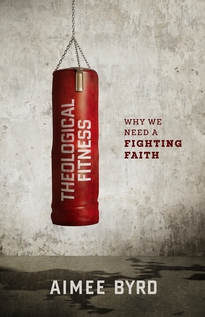 1. A Daughter of the Reformation Blog (Rachel Miller):
"What I loved about this book is that it's an encouragement, even an exhortation, to be serious about our sanctification, but it's not a burdensome checklist kind of book. It strikes the right balance between struggling against our sin and resting in the finished work of Christ. Our efforts cannot save us, but we are called to "hold fast" because "He is faithful."
Read Rachel's full review by clicking HERE.
2. Books at a Glance: Read an interview between Aimee Byrd and Books at a Glance to learn more about Theological Fitness by clicking HERE.
3. Challies: Theological Fitness was included in Challies' list of "New and Notable Books (May 2015)": Click HERE to see Challies' full list.
4. Sunday Women (Megan):
"Her perspective is refreshing in a Christian culture that often lacks true grit, and Theological Fitness would make an excellent basis for a mentoring relationship or a book study."
Click HERE to read Megan's full review.
5. Knowing the Truth (Kevin Boling): Listen to Kevin Boling interview Aimee about "A Fighting Faith" by clicking HERE.
6. Out of the Ordinary (Melissa):
"For those who want to have a fighting, victorious – and yes, sometimes difficult – faith, Theological Fitness is like having a personal trainer teach and encourage you to reach that goal."
To read Melissa's entire review, click HERE.
7. Operation Read Bible (Becky):
"I think it's relevant and practical. I do believe that Christians need to be exhorted to know what they believe and why they believe; they need to be encouraged to be engaged with the Word of God."
To read Becky's full review, click HERE.
---
A Daughter of the Reformation Blog (Rachel Miller):
Books at a Glance:
Knowing the Truth Radio Program (Kevin Boling):
Tim Challies:
Sunday Women Blog (Patsy Evans and Megan Hill):
Out of the Ordinary Blog:
Operation Read Bible Blog: