This week's author interview is with Chris Sinkinson, author of Time Travel to the Old Testament: An Essential Companion for the Christian Explorer.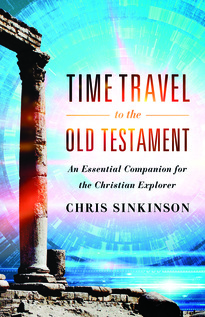 Question #1 – What book are you reading now?
I have just reread C.S. Lewis' The Great Divorce which is a profound and thought-provoking study in the nature of our choices and eternal destiny. It has so many insights, both inspiring and disturbing!
Question #2 – Other than the Bible, do you have a favorite book?
John Stott's The Cross of Christ is one of my favourite theological books. The way Stott managed to blend serious bible study, devotional insights and practical application is such a model to any other author in this field. The books moves my mind and heart!
Question #3 – Do you have a favorite book that you have written?
I enjoyed writing my Time Travel to the Old Testament which allowed me to pull together lots of experience from trips to Israel, archaeological sites, the British Museum and my own teaching. I also met some very interesting people in the process!
Question #4 – At what time of day do you write most?
Any spare moment. So I take what time I can in between other activities. I cannot simply put a day or two aside to write so I am used to making the most of odd hours when I can. I used to enjoy writing late at night but I increasingly find that my brain wants to switch off after 10pm!
Question #5 – Favorite animal? Why?
Any kind of duck. I love how they pretend to be clumsy but are actually masters of land, sea and air. Love their enthusiastic singing too.
Question #6 – The Lord of the Rings or The Chronicles of Narnia? Why?
The Lord of the Rings. I love the Narnia Chronicles, but Tolkien did something with the majestic sweep of Middle Earth that is almost incomparable. His written style and meticulous thought enabled him to create a coherent world that feels real and is incredibly rich. As a result, there are spiritual lessons in The Lord of the Rings that have a depth that I don't think even the wonderful Narnia Chronicles reach. It is the first book I read that made me cry!
Question #7 – What famous person (living or dead) would you like to meet and why?
Vincent Van Gogh. I wish I could find some words to encourage that troubled genius and tell him how much his work would one day be appreciated by so many.
Question #8 – If you have a favorite book of the Bible, what is it and why?
Galatians. I love the raw sound of Paul engaging with the priority of the gospel and the dangers of dilution. The tone is more blunt that Romans though the themes obviously overlap.
---
How can readers discover more about you and your work?
---