Modesty: More Than a Change of Clothes by Martha Peace & Kent Keller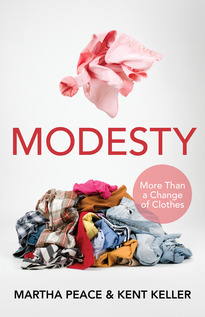 176 pages | List Price: $12.99
Summary: Modesty might seem like a "gray area," but it should matter to us because it matters to God! In the Bible, immodesty is forbidden for reasons that go beyond mere outward appearance. Martha and Kent write to teen girls in alternating sections, helping them to identify immodesty's causes and consequences, detect legalism, and seek modesty in their actions and dress. Includes discussion questions.
About the Authors:
Martha Peace is a certified biblical counselor and conference speaker, as well as a best-selling author. She lives with her husband, Sanford, in Peachtree City, Georgia.
Kent Keller (MDiv, The Master's Seminary) has spoken at the Shepherds' Conference and at youth ministry conferences in South Africa and Australia. He has also taught at training institutes in Croatia and Ukraine and is associate pastor at Faith Bible Church, Sharpsburg, Georgia.

What Others Say About This Book:
"It is refreshing to see the topic of modesty elevated to the importance that it deserves!"
—Mary K. Mohler, Director, Seminary Wives Institute
"A God-centered, gospel-saturated, and practical guide to the uncomfortable topic of modesty."
—Brian H. Cosby, Author, Giving Up Gimmicks
"Martha and Kent carefully apply the Bible's teaching on the heart of modesty. We highly recommend it to you."
—John and Lynn Crotts, Faith Bible Church