Black and Reformed: Seeing God's Sovereignty in the African-American Christian Experience by Anthony J. Carter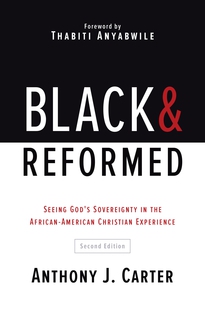 160 pages | List Price: $13.99 | Paperback
Summary
African Americans have a rich and compelling Christian heritage that stretches back to foundational church figures such as Augustine and Tertullian. Yet too often they are expected to embrace a Eurocentric theology that marginalizes their unique experiences and traditions.
In this pioneering work, Anthony Carter draws black and Reformed theology together, showing how Reformed theology addresses African- American experiences such as the horrors of the transatlantic slave trade. He also explores ways that an explicitly black theology can enhance our understanding of God and his Word, no matter our ethnicity.
This retypeset edition of On Being Black and Reformed adds a foreword by Thabiti Anyabwile, an interview with the author, and discussion questions for each chapter.
About the Author
Anthony J. Carter (MA, Reformed Theological Seminary) is lead pastor of East Point Church in East Point, Georgia, as well as an author, conference speaker, and guest lecturer.
Anthony
Carter
Endorsements
"As an African American, I am delighted with this book. It will serve as an excellent introduction to Reformed theology for the emerging black Reformed community. I anticipate that it will be a great resource for church planters and anyone else seeking to reach the black community."
—ANTHONY B. BRADLEY, Author, Liberating Black Theology
"When I met Anthony Carter several years ago, I detected a rigorous mind, a righteous concern for racial justice, and a Reformed vision of God—a rare combination. Since then I have wanted to be a listener. Now this book makes that easier. May the Lord of nations use it to shape a powerful movement of God-centered Christians from all peoples who have tasted suffering."
—JOHN PIPER, Founder and Teacher, desiringGod.org