This week's author interview is with Scott Christensen. He is the author of our upcoming book, What about Free Will?: Reconciling Our Choices with God's Sovereignty. This book will be released 2/29, but is available for preorder on our website.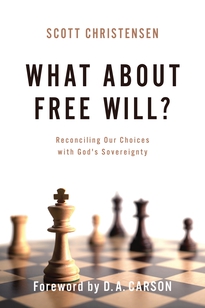 Question #1 – Tell us a little bit about yourself: where you're from, family, job, personal interests, unique hobbies, what you do in your spare time, etc.
Growing up, I wanted to be an architect more than anything else. I eventually ended up in Aspen, Colorado designing high end homes and winter resort buildings with an award winning architectural firm. Then God called me into ministry. After attending The Master's Seminary, I have been pastoring a rural church in Southwest Colorado. I have four boys and a wonderful wife who keeps it all together. I love skiing, snowshoeing, mountain biking and backpacking in my spare time. Well… reading and writing too!
Question #2 – Which writers inspire you?
Piper, Frame, Sproul, Carson, MacArthur, Edwards, Ryle, Lewis, Tolkien, O'Connor, Ambrose, and McCullough to name a few.
Question #3 – What inspired you to write this book, about this topic?
I wrestled with this topic for nearly 30 years before coming to grips with what I believe the Bible teaches. After preaching a series of sermons on the doctrine of election and trying to deal with the notion of free will, I was compelled to write about it more fully.
Question #4 – What advice would you give to aspiring writers?
Write, rewrite, rinse, repeat, repeat, repeat. Never assume your best writing happens the first time you put pen to paper or fingers to keys.
Question #5 – How do you deal with writer's block?
Take a shower. Standing under hot water loosens brain cells and allows wonderful thoughts to emerge. Then quickly dry off and go get those thoughts down!
Question #6 – Favorite sport to watch? Why? Favorite sport's team?
A toss-up between basketball and football. The competition, the athleticism, the teamwork, the leadership and all the excitement that emerges when these components all come together makes these sports a pleasure to watch. Of course, my favorite team is the Denver Broncos!
Question #7 – Favorite food?
Chicken fajitas.
Question #8 – Favorite flavor of ice cream?
Chocolate chip cookie dough.
Question #9 – The Lord of the Rings or The Chronicles of Narnia? Why?
The epic scale, iconic images, exotic locales, memorable characters and the threading of redemptive themes at multiple levels makes LOTR one of the greatest works of literature.
---
How can readers discover more about you and your work?