The God We Worship: Adoring the One Who Pursues, Redeems, and Changes His People edited by Jonathan L. Master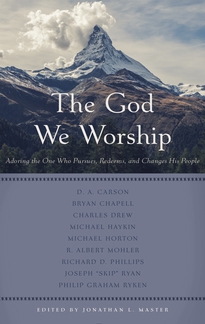 184 pages | List Price: $14.99 | Best of Philadelphia Conference on Reformed Theology (PCRT) | SAMPLE CHAPTER
Summary
We were all created to worship, but our worship runs amok, and we pour out our praise and affection before false gods. Meanwhile, we all too often go through the motions of worship as we join others in the pew on Sundays. Who can restore us and make us the worshipers we are supposed to be? Only God himself.
Contributions from: D. A. Carson, Charles Drew, Bryan Chapell, Michael Haykin, Michael S. Horton, Joseph "Skip" Ryan, Richard D. Phillips, R. Albert Mohler Jr., Philip Graham Ryken
About the Editor
Jonathan L. Master (MDiv and ThM, Capitol Bible Seminary; PhD, University of Aberdeen) is dean of the school of divinity and professor of theology at Cairn University. He also directs Cairn's undergraduate honors program. In addition, he is executive editor of the online magazine Place for Truth and is host of the podcast Theology on the Go.
These books gather up the "best of" the talks given at the Philadelphia Conference on Reformed Theology, a conference by the Alliance of Confessing Evangelicals.
Atonement – The doctrine of atonement is under attack, challenged even in evangelical circles. Here some of the church's best-known pastor-theologians illuminate this doctrine, defending it and highlighting its importance.
These Last Days – Gifted communicators of God's Word explain the Christian's view on life, death, and the hereafter as we live through "these last days," looking forward to the glorious age to come.
Solid Ground – Many evangelicals are questioning the authority of the Bible and the glory of its Author. Here eight leading pastor-scholars argue for the inspiration and inerrancy of the Word.
The Triune God – The persons of the Trinity appear throughout Scripture, and knowing them helps enrich our love for our triune God. Here leading pastors and preachers examine each member's qualities and roles.
God, Adam, and You – Noted pastor-scholars defend the historicity of Genesis 1–3 and unpack its profound implications for human nature, original sin, the gospel, God's intent for human sexuality, redemption, and more.