Why Does It Have to Hurt?: The Meaning of Christian Suffering by Dan McCartney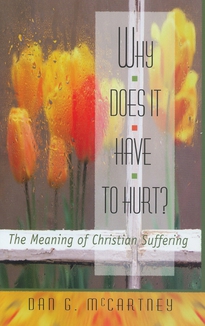 144 pages | List Price: $12.99 | Paperback
Summary
We all experience suffering, some of us more than others. In fact, if you're a Christian, you've been called to suffer with Christ. But why do Christians suffer? Isn't God all-powerful, able to prevent suffering? Isn't he loving and good, particularly toward his children? What purpose does suffering serve in my life, or the lives of my loved ones? Why does it have to hurt?
Endorsements
"Dan McCartney's splendid book . . . has all the qualities necessary to help us deal with such a sensitive, personal, and often difficult question. It is thoroughly honestand realistic; its approach is marked by Christian wisdom; and above all, it is biblical—and set out in his clear, readable, and easily followed style. . . . the result is a book which every Christian should read."
—Sinclair B. Ferguson
"McCartney looks the 'monster' in the eye and, with Bible in hand, gives honest answers to honest questions about suffering. This is a refreshing book. Read it! You'll be glad you did!"
—Steve Brown
". . . the best treatment of suffering I've read from a Reformed point of view. . . . gripping, practical, encouraging."
—John Bettler
About the Author
Dan McCartney (PhD, Westminster Theological Seminary) is professor of New Testament Interpretation at Redeemer Seminary in Dallas. He is the author of Why Does it Have to Hurt? and is a contributor to several reference works.