The Battle Belongs to the Lord: The Power of Scripture for Defending Our Faith by K. Scott Oliphint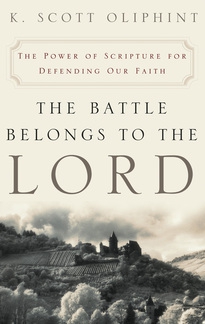 224 pages | List Price: $14.99 | Paperback
About
Apologetics is not just for philosophers. We all need wisdom for defending our faith. This book equips us to answer unbelief by means of our most powerful weapon—God's Word.
In this non-technical introduction to apologetics and its biblical underpinnings, K. Scott Oliphint calls all believers to do apologetics—to apply biblical truth to contemporary concerns. He helps us to build our witness through using our ability to reason and persuade, while stressing our need to rely on God's Word and his Spirit. God has called us to be his witnesses to the world, and yet, ultimately, "the battle belongs to the Lord."
Includes discussion questions to aid individuals and groups in applying a biblical case for the faith.
Endorsements
"Scott Oliphint rightly emphasizes that the Christian can never put the Bible aside, for Scripture sets the standards for everything we do, including apologetics. He analyzes some of the most important Bible passages for apologetics and points us to many more. Clear and non-technical, this is a helpful addition to the literature of presuppositional apologetics."
—John M. Frame
"Most of us who want to be faitful witnesses know we need—but often lack—three things: a clear understanding of the truth, the ability to express our message persuasively, and confidence that the gospel has nothing to fear in the intellectual market place. As a skilled seminary professor who has also served in the trenches of pastoral and evangelistic ministry, Dr. Oliphint is well qualified to give us just the help we need."
—Sinclair B. Ferguson
"An excellent primer on apologetics. Unlike others writing in this area, Oliphint underscores how God's revelation is at the heart of apologetics. He demonstrates how we are to use reason, logic, and persuasion in reliance on the Word and Spirit. Defending the Christian faith is not something that only a privileged few can do. Readers will reap much benefit from this extremely readable book."
—Charles Dunahoo
About the Author
K. Scott Oliphint (MAR, ThM, PhD, Westminster Theological Seminary) is professor of apologetics and systematic theology at Westminster Seminary, Philadelphia. He has written numerous journal articles in the field of apologetics, is coeditor of Revelation and Reason: New Essays in Reformed Apologetics, and is also the author of many P&R titles.