Below is an excerpt from Prone to Wander: Prayers of Confession and Celebration by Wayne Duguid Houk & Barbara R. Duguid and edited by Iain M. Duguid.
These prayers open with a scriptural call of confession, confess specific sins, thank the Father for Jesus' perfect life and death in our place, ask for help of the Spirit in pursuing holiness, and close with an assurance of pardon.
Inspired by the Puritan classic The Valley of Vision, these prayers were developed for both personal devotions and church use.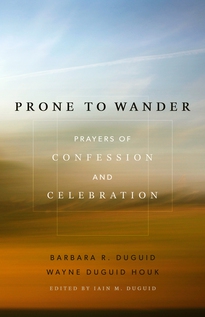 WORSHIPING THE KING
---
CALL TO CONFESSION: ISAIAH 45:22–25
"Turn to me and be saved,
all the ends of the earth!
For I am God, and there is no other.
By myself I have sworn;
from my mouth has gone out in righteousness
a word that shall not return:
'To me every knee shall bow,
every tongue shall swear allegiance.'
"Only in the Lord, it shall be said of me,
are righteousness and strength;
to him shall come and be ashamed
all who were incensed against him.
In the Lord all the offspring of Israel
shall be justified and shall glory."
---
PRAYER OF CONFESSION
Heavenly Father and King,
We come to you today as people who would rather govern our own lives than submit to your rule and shepherding. Instead of bowing down in reverence, full of awe and wonder that you, the almighty creator King of the universe should stoop so low to love and care for us, we often treat you as a servant who should do our bidding and meet all our desires. Instead of honoring the wonderful and merciful Father that you are to us, we run from your goodness and love toward the false and dangerous hopes of our desires and idolatries. Our inability to discipline our wandering ways results in incredible brokenness in our lives and relationships: our families, friends, and coworkers have often become the recipients as well as the source of our sin and pain.
Jesus, thank you for worshiping your Father with unwavering faith and unshakable hope on our behalf. Fully knowing and cherishing his true character, you submitted to his wisdom and trusted him completely in all the circumstances of your life. You ran to him often in your times of need and never turned toward false gods. The brokenness that entered this holy family was not the result of self-promotion or idolatry, but came from the willing sacrifice you made to be separated from your Father in an eternal payment for our sin. Now your obedience is ours, and we are so grateful to be united to you and defined by your righteousness instead of our own.
Holy Spirit, we are utterly feeble and weak, and we need your power at work in us. Help us to know and worship our God as he is, our King and Father who loves us passionately in the middle of our perverse foolishness. Press the truth of your gospel deep into our souls so that we see the work of our triune God: the Father, the radiant Potentate of time, and the lover of our souls; Jesus, the Man of Sorrows, humble, weary, bleeding for us, but at the same time the glorious Lamb upon the throne, crowned with many crowns, and worshiped by angelic hosts; and the Holy Spirit, the Lord and Giver of life, who is graciously at work in our hearts and lives. Cause us to know and feel God's great love for us until we are transformed into people who love others deeply because of a great sense of our own need and an undeniable sense of our forgiveness and adoption. Open our lips to join the heavenly worship service and sing praises to our heavenly King, today, tomorrow, and forevermore. Amen.
---
ASSURANCE OF PARDON: PSALM 138:1–8
I give you thanks, O Lord, with my whole heart;
before the gods I sing your praise;
I bow down toward your holy temple
and give thanks to your name for your steadfast love
and your faithfulness,
for you have exalted above all things
your name and your word.
On the day I called, you answered me;
my strength of soul you increased.
All the kings of the earth shall give you thanks,
O Lord,
for they have heard the words of your mouth,
and they shall sing of the ways of the Lord,
for great is the glory of the Lord.
For though the Lord is high, he regards the lowly,
but the haughty he knows from afar.
Though I walk in the midst of trouble,
you preserve my life;
you stretch out your hand against the wrath of my enemies,
and your right hand delivers me.
The Lord will fulfill his purpose for me;
your steadfast love, O Lord, endures forever.
Do not forsake the work of your hands.
---
HYMNS