7 Toxic Ideas Polluting Your Mind by Anthony T. Selvaggio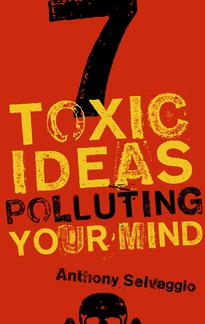 128 pages | $11.99 | Paperback
About
The world is full of dangerous, toxic ideas that invade our thoughts, undermine our Christian worldview, and extend into our very behavior.
Unfortunately, Christians often live their lives unaware that they are adopting non-Christian ideas, because they are too busy focusing on behavior in the first place. Worldliness is too often equated with what we say and do, rather than the battle of our hearts and minds that it truly is. And when Christians are too concerned and distracted by behavior on the outside, it is easy for worldliness to slip into our minds and take hold.
This book examines seven particularly toxic non-Christian ideas that cripple the modern Christian mind, exploring each idea clearly and understandably. Discussion questions are included to help you pinpoint these toxic ideas in your own thinking—and deal with them.
Are these ideas already polluting your mind? Learn how to replace them with a Christian mindset.
Endorsements
"Anthony Selvaggio's book should not be overlooked by thoughtful Christians.  He challenges the incorrect notion that "worldliness" constitutes merely overt behavior, and he rightly reminds us that our thoughts and ideas end up shaping our behaviors far more than we think.  He rightly uncovers seven common ideas/values in American culture that are contrary to the principles disclosed in Holy Scripture."
—T. David Gordon, Professor of Religion and Greek, Grove City College
"We have a [hard] time spotting the seven modern idolatries that Anthony Selvaggio outlines for us . . . [but] 7 Toxic Ideas Polluting Your Mind helps us to spot those current tendencies and, with God's grace, contain them."
—Marvin Olasky, Editor-in-chief, WORLD Magazine
About the Author
Anthony T. Selvaggio (JD, The University of Buffalo School of Law; MDiv, Reformed Presbyterian Theological Seminary) is an ordained minister, a lawyer, an author, a lecturer, and a visiting professor at Ottawa Theological Hall in Ottawa, Canada. Previously he was a visiting professor at the Reformed Presbyterian Theological Seminary in Pittsburgh and was Theologian in Residence at the Rochester Reformed Presbyterian Church. He edited and contributed to The Faith Once Delivered: Essays in Honor of Dr. Wayne R. Spear. He lives in Rochester, New York, with his wife, Michelle, and their two children, Katherine and James.
---