This week's author inter­view is with Guy Richard, author of the Basics of the Faith book­let, What Is Faith?.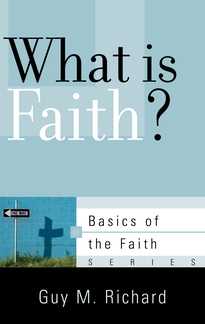 Ques­tion #1 — Tell us a lit­tle bit about your­self: where you're from, fam­ily, job, per­sonal inter­ests, unique hob­bies, what do you do in your spare time, etc.
I have spent most of my life in the south­east, liv­ing mostly in Louisiana, Mis­sis­sippi, Alabama, and the Car­oli­nas. I cur­rently serve as Senior Min­is­ter of the First Pres­by­ter­ian Church (PCA) in Gulf­port, Mis­sis­sippi. My wife Jen­nifer and I have been mar­ried for 22 years. We have three chil­dren rang­ing in ages from 18 to 4. I enjoy read­ing and writ­ing, teach­ing and preach­ing, and shep­herd­ing my fam­ily and God's. Out­side of those things, I love to exercise—most espe­cially run­ning, swim­ming, and cycling—and to watch col­lege foot­ball (War Eagle!).
Ques­tion #2 — Did you always enjoy writing?
I'm not sure that I "enjoy" writ­ing now! I say that because I think that writ­ing is hard work, at least it is for me. The process of writ­ing is, there­fore, often­times not "enjoy­able." But the end result of the hard work is quite enjoy­able. And there is def­i­nitely a sense of sat­is­fac­tion in the process too, know­ing that I am using gifts that the Lord has given me to honor and serve Him.
Ques­tion #3 — Other than the Bible, do you have a favorite book?
It would prob­a­bly be J.I. Packer's Know­ing God or his A Quest for God­li­ness or J.C. Ryle's Holi­ness.
Ques­tion #4 — Do you have a favorite movie? What is it and why?
I like older movies like "Mr. Smith Goes to Wash­ing­ton" or "Char­i­ots of Fire," movies that are inspi­ra­tional and moti­va­tional and make me want to work harder and sac­ri­fice more and give more of myself in ser­vice of our God.
Ques­tion #5 — What advice would you give to aspir­ing writers?
Keep writ­ing. The more you write, the bet­ter your writ­ing will become.
Ques­tion #6 — What has been the tough­est crit­i­cism given to you as an author? What has been the best compliment?
My sec­ond super­vi­sor for my PhD, the late Pro­fes­sor David F. Wright, was espe­cially hard on me. I remem­ber get­ting papers back from him that were so cov­ered in red ink it looked like he had bled all over the pages. He pushed me to think about what I was writ­ing in a way that I hadn't been pushed before. I appre­ci­ate his influ­ence today more than ever. I think the best com­pli­ment I have ever received about my writ­ing (and preach­ing and teach­ing) is that I am easy to under­stand. Peo­ple tell me that I have a gift for mak­ing dif­fi­cult things sim­ple. I'd like to think that is actu­ally true!
Ques­tion #7 — Favorite sport to watch? Favorite sport's team?
Col­lege Football….Auburn Uni­ver­sity. I love it because my wife and I both went to Auburn, and I think we asso­ciate every­thing we love about Auburn (which is a lot) with the foot­ball team.
Ques­tion #8 — Lord of the Rings or The Chron­i­cles of Nar­nia? Why?
Both. But if I had to choose one or the other, I would choose The Chron­i­cles of Nar­nia, because of their explic­itly Chris­t­ian theme and because of Lewis himself.
Ques­tion #9 — If you have a favorite book of the Bible, what is it and why?
Romans or Hebrews. I love the depth and beauty of each.
__________________________________________________________________________
Want to learn more about Guy Richard?
__________________________________________________________________________