This week's author inter­view is with Glenn R. Krei­der. He is the author of God with Us: Explor­ing God's Per­sonal Inter­ac­tions with His Peo­ple through­out the Bible.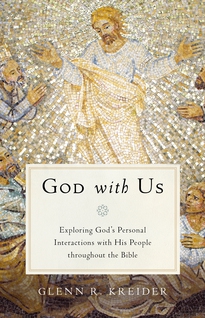 Ques­tion #1 — Tell us a lit­tle bit about your­self: where you're from, fam­ily, job, per­sonal inter­ests, unique hob­bies, what you do in your spare time, etc.
I grew up on a dairy farm in south­east­ern Penn­syl­va­nia. My dad was a hard work­ing farmer; I was lazy and unim­pressed with the ben­e­fits of hard work. I did, how­ever, excel in school. After grad­u­a­tion from high school, I mar­ried my high school sweet­heart who increas­ingly has become my best friend. After sev­eral years as an insur­ance agent, I returned to school, com­plet­ing an under­grad­u­ate degree before attend­ing sem­i­nary where I com­pleted a ThM and a PhD. I have had the incred­i­ble priv­i­lege of teach­ing the­ol­ogy courses for over two decades.
We have two grown chil­dren, a son in law, and the world's cutest grand­daugh­ter (born Jan­u­ary 2015). My wife and I enjoy trav­el­ing, read­ing, lis­ten­ing to live music, and watch­ing good movies.
Ques­tion #2 — What inspired you to write this book, about this topic?
In God with Us, I explain how a short para­graph from a ser­mon changed the way I read the Bible. Cor­nelius Planti­nga asserted that Jesus' humil­ity, his con­de­scen­sion to become human for the sake of rebel­lious human­ity, was not some new and never-before seen action of God. Rather, Jesus was act­ing like his Father, doing what the God of Abra­ham, Isaac, and Jacob has always done. As I began to read the Bible with this insight, I began to notice divine con­de­scen­sion every­where in the bib­li­cal story. I trace this theme through the canon in this book.
Ques­tion #3 — Do you have a favorite author? Who is it and why?
My doc­toral research focused on Jonathan Edwards and his the­o­log­i­cal method, par­tic­u­larly how he read and used the Scrip­tures in his the­ol­ogy. I return to the writ­ings of Edwards more than any other author. From Edwards' His­tory of the Work of Redemp­tion, I learned to read the Bible as the story of God's work of redemp­tion, as sal­va­tion his­tory. From his Reli­gious Affec­tions, I learned to appre­ci­ate the role of the Spirit in true spir­i­tu­al­ity. I learned how to eval­u­ate my growth in spir­i­tual matu­rity through the true signs. From Char­ity and Its Fruits, I learned that heaven is a world of love. From Sin­ners in the Hands of an Angry God, I learned that God is a gra­cious God who desires the wicked to repent and come to him in faith.
Ques­tion #4 — Do you have a favorite movie? What is it and why?
I have a long list of favorite movies. One way to illus­trate sev­eral favorites is with a favorite line from the movie.
From "Babbette's Feast" — "There comes a time when our eyes are opened and we come to real­ize that mercy is infi­nite. We need only await it with con­fi­dence and receive it with grat­i­tude. Mercy imposes no con­di­tions. And lo! Every­thing we have cho­sen has been granted to us. And every­thing we rejected has also been granted. Yes, we even get back what we rejected. For mercy and truth have met together, and right­eous­ness and bliss shall kiss one another."
From "Shaw­shank Redemp­tion" — "Remem­ber Red, hope is a good thing, maybe the best of things, and no good thing ever dies."
From "The Vil­lage" — "She is more capa­ble than most in this vil­lage. And she is led by love. The world moves for love. It kneels before it in awe."
Ques­tion #5 — Do you have a favorite musi­cal artist? What is it and why?
I have eclec­tic music tastes but I par­tic­u­larly enjoy the late Rich Mullins, Andrew Peter­son, U2, and Switch­foot. What these four artists have in com­mon is that they are peo­ple of faith who see through the bro­ken­ness and tragedy of the fallen world into the hope of the world to come. I want to learn to see what they see when I look at the world. Jonathan Edwards wrote about a new way of see­ing, the spir­i­tual sense or the sense of the heart that comes to the believer through the Holy Spirit. These four artists inspire me to see the world with spir­i­tual eyes.
Ques­tion #6 — What has been the tough­est crit­i­cism given to you as an author? What has been the best compliment?
I tend to say too much and so I tend to write too much. An edi­tor told me one time that I needed to cut my man­u­script nearly in half if he was going to be able to use it. And he told me that he would not make the cuts for me. The result was a much stronger work than it would have been oth­er­wise. But it was painful to leave so much on the cut­ting room floor.
The best com­pli­ment I ever received was from a reviewer of God with Us. He wrote: "I found your writ­ing style to be unique. The book would make for a fine resource for any scholar, but it is equally acces­si­ble to any layper­son and quite uplift­ing for some­thing that can be used for research." That was my goal, to write so that schol­ars would find it help­ful but also acces­si­ble to laypeople.
Ques­tion #7 — Favorite sport to watch? Why? Favorite sport's team?
My dad was a base­ball fan. We did not have a tele­vi­sion so I grew up lis­ten­ing to Phillies games on the radio. When we moved to Texas, I became a fan of the Texas Rangers; in those days, the Rangers were not very good. In recent years, they have been much bet­ter, although we are still wait­ing for the first cham­pi­onship in Arling­ton. I moved to Dal­las as a fan of the Cow­boys; that has not changed.
Ques­tion #8 — Favorite food?
Texas BBQ; I will not name a favorite place since Tex­ans go to war over such things.
Ques­tion #9 — Favorite ani­mal? Why?
I am a dog per­son. We have res­cued mul­ti­ple dogs. We cur­rently have two pugs (Mardi and Jack Bauer), a Chi­huahua (Nef­tali), and a black Labrador Retriever named Chloe.
Ques­tion #10 — What famous per­son (liv­ing or dead) would you like to meet and why?
I regret that I never met Rich Mullins; I only saw him per­form once. Rich's music has deeply impacted me, espe­cially in learn­ing how to see God in the "fury of a pheasant's wings." I con­tinue to hope that one day I will meet Bono, front man of the band U2. I have a list of ques­tions for him but I sus­pect I will not remem­ber any of them when I meet him. I am impressed by Bono's lyri­cal bril­liance, his musi­cal excel­lence, and his con­cern for justice.
Ques­tion #11 — If you have a favorite book of the Bible, what is it and why?
It is dan­ger­ous to answer such a ques­tion since the Bible in its entirety is God's word to us. But I do find myself return­ing to Gen­e­sis and John again and again.
---
Want to learn more about Glenn?
Fol­low him on Twit­ter: @gkreider
Visit his fac­ulty page: http://www.dts.edu/about/faculty/gkreider/
---