The Chosen Daughters series highlights the lives of ordinary women who by God's grace accomplish extraordinary things. The series features the stories of Jeanne d'Albret, Edith Cavell, Olympia Morata, Juliana von Stolberg, and Margaret Wilson.
---
1. Wings Like a Dove:The Courage of Queen Jeanne d'Albret by Christine Farenhorst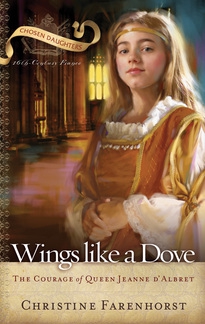 208 pages | Direct Price: $11.99 $9.00 | Paperback
SUMMARY
Jeanne d'Albret, born in 1528, is the only daughter of the King and Queen of Navarre. Standing with her beloved Huguenots, Jeanne steps onto the battlefield of history during the tumultuous years of the Reformation (1517–1559). As deadly political events swirl around her tiny Kingdom of Navarre, Queen Jeanne is forced to choose: Will she hide the fleeing Huguenots under the very nose of Catherine de Médicis's henchmen or save her own life?
ENDORSEMENTS
"Wings like a Dove presents a compelling look at one of the heroic women of the Reformation—Jeanne d'Albret. Christine Farenhorst's book transports you back in time, to an age that may seem romantic from this vantage point, but was actually filled with immense dangers and challenges to those who loved God. I couldn't put it down!"
—Diana Waring, author of History Alive! curriculum and international speaker
"Skillfully weaves accurate details of setting, character, and issues of faith into this compelling and inspiring account."
—Clifford Van Dyken, teacher, Heritage Christian School, Jordan Station, Ontario
---
2. Dr. Oma: The Healing Wisdom of Countess Juliana Von Stolberg by Ethel Herr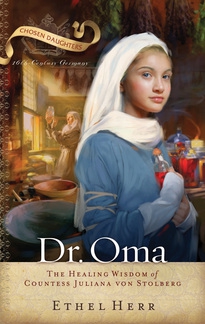 208 pages | Direct Price: $11.99 $9.00 | Paperback
SUMMARY
Juliana von Stolberg (1506 – 1580), the Queen Mother of the Netherlands, is cherished by the Dutch people as a wise and gifted healer. Juliana gains an able apprentice when her granddaughter Maria comes to live with her. Will Maria learn to put her trust in God while her father, the courageous William of Orange, fights to free Holland from Spanish rule? Will one woman's belief save the Netherlands and change the world?
ENDORSEMENTS
"How is it possible that two women from the past can find such a tender place in your heart? You will be glad you met Juliana and Maria through the pages of this beautifully researched and lovingly told tale."
—Robin Jones Gunn, best-selling author of the Christy Miller series
"Our daughters today need to know God's unique purpose for them, and that girls and women can do great things for God!"
—Neta Jackson, co-author, Trailblazer series, Hero Tales 1-4; author, The Yada Yada Prayer Group novels
"Ethel Herr creates a world I want to visit . . .and to know these people really existed makes their lives all the more fascinating."
—Lissa Halls Johnson, creator and writer, Brio Girls Series www.chosendaughters.com
---
3. Against the Tide: The Valor of Margaret Wilson by Hope Irvin Marston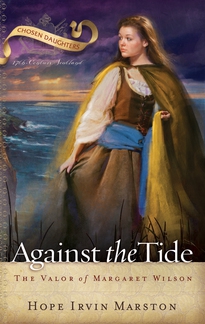 220 pages | Direct Price: $11.99 $9.00 | Paperback
SUMMARY
Seventeenth-century Scotland is a place of cruel intolerance for the Covenanters, a people bound together by their loyal faith. A young, earnest Covenanter, Margaret Wilson finds her pledged loyalty to Christ and his covenant in opposition to King Charles II's demands for her absolute obedience. Will Margaret choose to defy the authorities? Or will devotion to her family, love for her sweetheart, and hopes for future happiness ruler her heart?
ENDORSEMENTS
"Margaret Wilson is a heroine for the ages, holding true to her convictions during one of the darkest seasons in Scottish history. Oh, that we might all have the faith of this young woman, who was determined to let God choose her future, whether for service or for sacrifice."
—Liz Curtis Higgs, Best-Selling Author, Thorn in My Heart
"The difficult age of the Scottish Covenanters comes startlingly to life . . . Hope Marston has captured all the drama and adventure, tension and intrigue, courage and romance, faith and endurance of those Killing Times when both the integrity of the gospel and the prospects of freedom were very much at stake."
—George Grant, President, Franklin Classical School
---
4. A Cup of Cold Water: The Compassion of Nurse Edith Cavell by Christine Farenhorst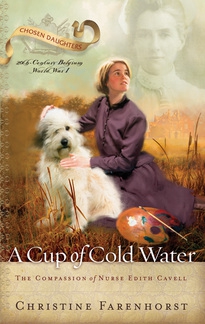 224 pages | Direct Price: $11.99 $9.00 | Paperback
SUMMARY
"The secret password is yorc," the princess whispered. Edith longed for her girlhood in England, when her secrets had been kept safe by her dog Reddie. But now in God's timing, Edith is director of a nursing school in Belgium. Caught in the turmoil of World War I, Edith finds herself surrounded by enemy spies. As a nurse protected by the Red Cross, will Edith turn her back on the Allied soldiers who desperately need her help?
ENDORSEMENTS
"A captivating introduction to Edith Cavell. Educational, inspiring, and full of gospel encouragement, A Cup of Cold Water is destined to be a family read-aloud favorite."
—Tara & Matt Kingswood, Russell, ON
"A blend of artistic craft and scholarly research bring Edith Cavell to life. Edith fulfills the hope of her earthly father: 'that she would grow up to serve God in some special way.' But more important, her faith points to a heavenly Father who directs and plans lives for His glory. Just as He directed Edith Cavell's life, He will accomplish the plans concerning me!"
—G. Carol Bomer, Artist, Asheville, NC
---
5. Weight of a Flame: The Passion of Olympia Morata by Simonetta Carr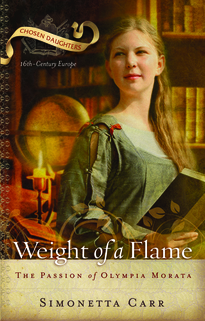 224 pages | Direct Price: $11.99 $9.00 | Paperback | SAMPLE CHAPTER
SUMMARY
Olympia Morata (1526–1555) is her father's finest student and a girl far ahead of her time. A quick tongue and a ready pen are her mind's tools to record her vivid thoughts, poetry, songs, and opinions. Appointed tutor to Duchess Renee's children, Olympia looks forward to a bright future—when suddenly, evil rumors threaten to turn her world upside down. In the midst of it all a young doctor comes courting. Will their love survive the danger waiting on the other side of the Alps?
ENDORSEMENTS
"Readers will face, with Olympia, the daily dangers and insecurities that accomplanied a faithful witness to the truth of the gospel."
—Starr Meade, bestselling author of Training Hearts, Teaching Minds and Grandpa's Box
"In this delightful yet imformative historical fiction we meet Olympia, a young girl willing to stand strong for her Christian values in the troubled, changing world of the Reformation."
—Laura E. Smith, award-winning educator
"With the precision of a scholar and the heart of a storyteller, Simonetta Carr brings to life the story of Olympia Morata, a daughter of the Italian Reformation."
—Eric Landry, executive director of White Horse, Inc., home of Modern Reformation and the White Horse Inn radio program
---
COMING JUNE 30, 2017
6. Johanna and Henriette Kuyper: Daring to Change Their World by Abigail van der Velde
224 pages (estimated) | Direct Price: $12.99 $10.00 | Paperback
SUMMARY
As the 1800s draw to a close and a new century begins, forces for change are already at work in the Netherlands' entrenched society when custom is further challenged by two bold women, Johanna Kuyper and her daughter Henriette.
Johanna is a traditional wife eager to both support and challenge her strong-willed husband, Abraham Kuyper, a dominant leader in church, education, and politics. She serves her family and community through celebrations and sorrows, social upheaval and political conflicts.
The more progressive Henriette Kuyper is an international traveler, champion of women's suffrage, and wartime correspondent—among much else!
Risking reproach and defying custom, both will find very different ways to change their world for good and for God's sake.