424 pages | $19.99 | Paperback | Published: 2003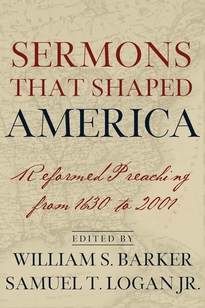 Summary: A unique collection of 18 sermons that have been crucial in American history – from John Cotton in the 17th century to Tim Keller's sermon on the September 11 tragedy.
Includes sermons by:
John Cotton | John Winthrop | Cotton Mather | Jonathan Edwards | Gilbert Tennent | Jonathan Mayhew | Ezra Stiles | Archibald Alexander | Asahel Nettleton | James Waddel Alexander | Benjamin Morgan Palmer | John L. Girardeau | Geerhardus Vos | Clarence Edward Macartney | J. Gresham Machen | Francis A. Schaeffer | James Montgomery Boice | Timothy Keller
What Others Say about this Book:
"In this one volume you can find some of the best traditional Reformed preaching throughout the span of American history. It provides not only memorable sermons but also fascinating examples of historical change and continuity." – George Marsden
"A most useful volume for modern preachers of the gospel. It still amazes me that many evangelicals have little or no understanding of the immense contribution that Reformed preaching has made to the United States of America. This wonderfully edited work will serve the church well." – John H. Armstrong
"The sermons in this volume confirm the Word of God preached has a supreme influence explained only by the power of Christ Jesus, Lord of life and history. May many preachers read and be encouraged, and may they return to their mighty task with diligence and passion." – Joel Nederhood
"Any who desire to re-shape the world through the proclamation of the Word will find great inspiration in Sermons That Shaped America. These messages are trustworthy guides that provide fresh courage and confidence for the unique, and sometime lonely, paths God calls his preachers to walk today." – Bryan Chapell
_________________________________________________________________________________
Our mis­sion is to serve Christ and his church by pro­duc­ing clear, engag­ing, fresh, and insight­ful appli­ca­tions of Reformed theology.
_________________________________________________________________________________