John Frame's Selected Shorter Writings, Volume 2 by John M. Frame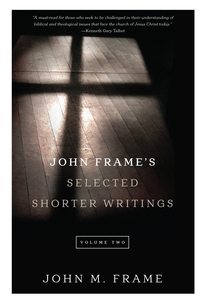 416 pages | Direct Price: $16.99 $13.00 | Paperback
Summary: Twenty-six short, pointed essays summarizing some of Frame's central (and a few peripheral) ideas about Scripture, theological education, theological method, apologetics, ethics, and the church, along with essays on interesting personal reflections. The book begins with "Inerrancy: A Place to Live," one of Frame's shortest and clearest presentations of this aspect of the doctrine of Scripture. This essay is complemented later in the book by "Let God Be True: Scripture and Certainty." Other essays include "Why Theology Needs Philosophy," (presaging Frame's epic History of Western Philosophy and Theology), "The Academic Captivity of Theology," "The Demise of Systematic Theology," "The Heart of the Atonement," "The Bible on the Problem of Evil," "Tolerance," "Two Levels of Divine Blessing," "What Denomination Should I Join?," "Worship That Pleases God," "My Exceptions to the Westminster Standards," and (just for fun) "Triperspectival Dieting." You will be delighted, entertained, challenged—and come away feeling smarter than you were before!
About the Author:
John M. Frame (A.B., Princeton University; B.D., Westminster Theological Seminary; M.A. and M.Phil., Yale University; D.D., Belhaven College) holds the J. D. Trimble Chair of Systematic Theology and Philosophy at Reformed Theological Seminary in Orlando, FL and is the author of many books, including the four-volume Theology of Lordship series and Systematic Theology: An Introduction to Christian Belief.
What Others Are Saying About this Book:
"Now, reaching the end of his teaching career, Frame wants to impart in his Selected Shorter Writings 'the most important thoughts I would like to leave to the next generation.' Since these are Frame's 'most important thoughts,' I find myself savoring each word."
— John Barber, Pastor, Cornerstone Presbyterian Church; Adjunct Professor, Fine Arts, Saints Bible Institute
"In comparison with the 'feast' of John Frame's major works, these are the 'nuggets.' They still off er vintage Frame, and I heartily recommend them for their wisdom, balance, and incisiveness. Some have a more personal, informal tone and will usefully complement Frame's major writings, especially for those who want to understand the connection of his writings to the person behind them."
— Vern S. Poythress, Professor of New Testament Interpretation, Westminster Theological Seminary; Editor, Westminster Theological Journal
"For Professor Frame, being biblically balanced expresses his goal of a lifetime of teaching theology. He has sought not only to express orthodox doctrine from a biblical perspective, but also to convey a theology that is capable of aff ecting a Christian's total world and life view. . . .This excellent book is a must-read for anyone who seeks to be challenged in understanding the biblical and theological issues that face the church of Jesus Christ today."
— Kenneth Gary Talbot, President, Whitefield Theological Seminary
The First Volume of John Frame's Selected Shorter Writings:
John Frame's Selected Shorter Writings, Volume 1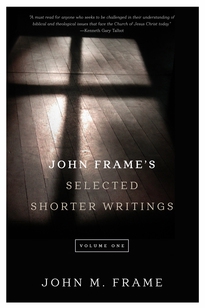 336 pages | Direct Price: $16.99 $13.00 | Paperback
_____________________________________________________________________________
Our mis­sion is to serve Christ and his church by pro­duc­ing clear, engag­ing, fresh, and insight­ful appli­ca­tions of Reformed theology.
_____________________________________________________________________________