Here are the remaining new releases for the rest of 2015:
---
---
God's Servant Job: A Poem with a Promise by Douglas Bond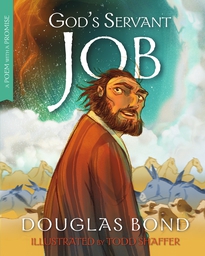 32 pages | List Price: $9.99 | Fully Illustrated
SUMMARY
God's Servant Job is a beautifully illustrated children's story in verse that explores the gospel according to Job. Though the themes in Job are complex, Bond winsomely portrays the story's essential, foundational theology in a poetic introduction for younger children. Although known for its supernatural encounters and advice both good and bad, the story of Job is most of all a story that reveals a glorious Redeemer who lives—showing how our children can have hope and comfort no matter what befalls them in this life.
---
---
A History of Western Philosophy and Theology by John M. Frame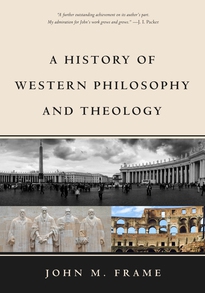 928 pages | List Price: $59.99
SUMMARY
Christians should evaluate philosophy by biblical criteria. This will shed greater light on the developments in the history of philosophy and better prepare us for the intellectual challenges of our time. The fall of Adam brought intellectual as well as moral corruption on the human race, and the effects of the fall can be seen in the work of philosophers, most of whom try to understand the world autonomously—through reasoning apart from God's revelation. Some philosophers have appealed to God's revelation, but their work has often been compromised with the wisdom of the world. Revelation should inform reason, and not the other way round. In the past, even Christian theology was corrupted by the movement toward intellectual autonomy, creating the tradition of liberalism, which has unhappily dominated academic theology down to the present day. But there is hope—a new generation of Christian thinkers take God's Word seriously. Frame's unique new contribution augments that process.
ENDORSEMENTS
"John Frame has done it again! In the lucid and comprehensive style of his Theology of Lordship volumes, he here presents a full overview of Western thought about knowledge of God as it must appear to all who receive Holy Scripture, as he does, as the record, product, and present reality of God speaking. And the solid brilliance of the narrative makes it a most effective advocacy for the Kuyper-Van Til perspective that in a well-digested form it represents. It is a further outstanding achievement by John Frame. The book deserves wide use as a textbook, and I hope it will achieve that. My admiration for John's work grows and grows."
—J. I. Packer
"This is the most important book ever written on the major figures and movements in philosophy. We have needed a sound guide, and this is it. Philosophy has many ideas and systems that are attractive but poisonous. Over the centuries people have fallen victim again and again. Frame sorts out the good and the bad with clarity and skill, using the plumb line of Scripture. Along the way he also provides a devastating critique of liberal theologies, showing that at bottom they are philosophies of human autonomy masquerading as forms of Christianity."
—Vern S. Poythress
---
---
 1 & 2 Thessalonians by Richard D. Phillips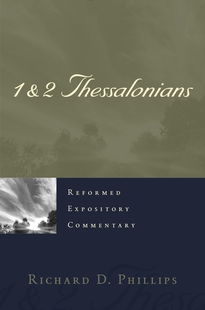 456 pages | List Price: $34.99 | Series: Reformed Expository Commentary
Summary
Years before writing Romans or Ephesians, Paul sent a pair of letters to a new church in Thessalonica. Three concerns governed Paul's teaching in these letters: What makes a healthy church? How should we view God's Word? What does the Christian life look like? Richard D. Phillips's commentary considers these foundational issues in a scholarly, pastoral, and practical manner and also explores Paul's end-times teaching—the clearest found in the New Testament. Through these studies, readers will find a refreshingly clear biblical summary of what will happen before, during, and after the second coming. Just as importantly, by touring Paul's singular teaching in 1 and 2 Thessalonians, readers will recover a joyful anticipation of Christ's return and receive hope for life in a challenging world.
ENDORSEMENTS
"The books of 1 and 2 Thessalonians have a crucial message for the world today, but they can be hard to understand. What does the Bible teach about the return of Christ? What should we think about the 'rapture'? Who is the man of lawlessness? With theological precision and the care of a seasoned pastor, Richard Phillips reveals the sure biblical path through the underbrush of end-times confusion, and explains the relevance of Paul's letters for today. Readers will be instructed and encouraged to follow Christ anew, trusting in the God who sovereignly directs history. Highly recommended."
—Brandon Crowe
"The author of this worthy volume is conversant with the extensive literature on 1 and 2 Thessalonians and has given us a commentary informed by his long commitment to Christ-centered reformational theology. But this is not a trudging tome; it was preached viva voce by a busy, caring pastor-scholar to his own flock week by week and is lively, engaging, and wholly relevant. 1 & 2 Thessalonians is sure to be a grace to the church and her shepherds."
—R. Kent Hughes
---
---
Evangelical Ethics: Issues Facing the Church Today, 4th Edition by John Jefferson Davis
400 pages | List Price: $19.99
Summary
For three decades, Evangelical Ethics has been regarded as one of the best treatments of contemporary ethical problems facing Christians. John Jefferson Davis brings mature biblical thought to issues such as homosexuality, genetics, abortion, euthanasia, war and peace, the environment, divorce, and remarriage.
This fourth edition includes a new chapter on the history and legacy of slavery in the United States. Other chapters have been revised and updated.
ENDORSEMENT
"I am delighted that John J. Davis's Evangelical Ethics is appearing again in a new edition. I have used the text in my classes for years. I admire its faithfulness to Scripture and Reformed theology and its power to stimulate good discussion. . . . I recommend the book highly."
—John Frame
---
---
For a Continuing Church: The Roots of the Presbyterian Church in America by Sean Michael Lucas
368 pages | List Price: $19.99
Summary
The Presbyterian Church in America (PCA) is the largest conservative, evangelical Presbyterian denomination in North America. And yet ministers, elders, and laypeople know only the barest facts concerning the denomination's founding. For a Continuing Church is a fully researched, scholarly yet accessible account of the theological and social forces that brought about the PCA.
Drawing on little used archival sources, as well as Presbyterian newspapers and magazines, Lucas charts the formation of conservative dissent in response to the young progressive leadership that emerged in the Presbyterian Church in the United States (PCUS) in the 1920s and 1930s. Their vision was to purify the PCUS from these progressive theological elements and return it to its spiritual heartland: evangelism and missions. Only as the church declared the gospel with confidence in the inspired Scriptures would America know social transformation.
Forty years after its founding, the PCA has nearly 400,000 members and is still growing in the United States and internationally.
ENDORSEMENTs
"Sean Lucas has given us an account of events leading up to founding of the Presbyterian Church in America that not only is informative from a historical perspective but could be valuable in helping to assess events taking place today. Some of the issues and concerns facing the church today are similar to, if not the same as, those that fed into the forming of the PCA. I believe this book not only will have an appeal to those involved in this history, but could be a resource for those who have come along at a later time to better understand where and why we are today."
—Charles H. Dunahoo
"As God did a glorious work in the lives of his imperfect but beloved covenant people, he would at times tell them to 'pile up some stones' in order to remember what he had done and to teach the 'coming generations.' Sean Lucas has 'piled up some stones' to prod our remembrance of the gracious work of God's providence in establishing the Presbyterian Church in America. And the 'coming generations' are therefore sure to be both encouraged and equipped for a future that by God's grace will be marked with an imperfect yet loving obedience."
—Harry L. Reeder III
---
---
Let the Earth Hear His Voice: Strategies for Overcoming Bottlenecks in Preaching God's Word by Greg R. Scharf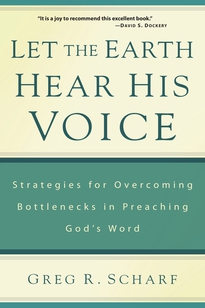 272 pages | List Price: $17.99
Summary
Much evangelical preaching fails to recognize that preachers speak for the same God who once spoke through prophets and apostles. Thus sermon preparation and delivery is a weighty responsibility—and can be richly blessed despite a preacher's weaknesses.
Uniting theological encouragement with practical advice, Greg Scharf identifies eight common bottlenecks that can clog a sermon's fruitfulness and faithfulness—humanly speaking—and gives diagnoses, strategies for addressing the problems, and exercises to overcome them. This is not a simplistic "how-to" book. Seminary students, occasional preachers, and seasoned pastors will be given profound tools and insights for preaching faithfully, clearly, and applicably, all while being reminded to pray for the Holy Spirit's anointing of their work. A cross reference allows the book to be easily used alongside Bryan Chapell's Christ-Centered Preaching.
Endorsements
"Both preachers-in-the-making and seasoned shepherds who want people to hear God's voice through their sermons will benefit from digesting this book slowly and thoughtfully."
—Dennis E. Johnson, Professor of Practical Theology, Westminster Seminary California
"If you are asking, 'Why is my preaching not having the effect that God's Word ought to have on its hearers?,' I urge you to read this book with a torchlight on your own heart. There may yet be hope!"
—Conrad Mbewe, Chancellor of the African Christian University, Lusaka, Zambia
---
---
Spreading the Feast: Instruction and Meditations for Ministry at the Lord's Table by Howard Griffith
[COVER NOT YET FINALIZED]
152 pages | List Price: $14.99
SUMMARY
The church's ministry of the Lord's Supper is vital, but students and pastors often think of this sacrament almost completely in terms of theological differences. Congregations hear few sermons about how God builds his people's faith, hope, and love at Lord's Table.
In this brief, practical book for those who serve the Lord's Supper, Howard Griffith provides a biblical theology of the Lord's Supper and instructions on inviting participants to the Table. In the final part, twenty-eight pastoral meditations span the Old and New Testaments, showing the rich benefits of our union with Christ. Spreading the Feast will help students and pastors form their own words of explanation and exhortation as they minister at the Table, proving especially helpful to those who celebrate weekly communion.
ENDORSEMENTS
"I have profited greatly from Spreading the Feast. . . . Howard's treatment is biblically sound, and he opens up rich themes, of which some pastors may be unaware. The book will be very useful for pastors and students of theology. I recommend it highly."
—John Frame
"Able and edifying. . . . biblically and theologically sound and insightful throughout. Here indeed is a feast for all who value their participation in the sacrament, but especially for pastors, whether beginning or experienced, looking for help in making their own ministering at the Table more meaningful and honoring to the Lord."
—Richard B. Gaffin Jr.