Song of Songs by Iain M. Duguid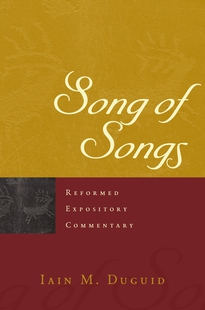 216 pages | $22.99 | Hardcover | Reformed Expository Commentary series
Summary
Although the presence of the Song of Songs in the Bible may sometimes puzzle us, its place in Scripture means that it is God-breathed and useful to instruct all Christians—no matter their relationship status or time of life.
Pastor-scholar Iain Duguid steers a middle way between allegorical and literal approaches to the Song of Songs, showing that this book's celebration of the love between a man and woman can not only shape our thinking about human relationships but also give us profound insight into the love that Christ has for his bride, the church.
Endorsements
"Here Iain Duguid is the expositor, the biblical theologian, the pastor, the counselor, and—quite often!—the surgeon. This exposition is vintage Duguid—sneakingly convicting and awash in grace. He lures me to oversimplify: if someone asks me how best to prepare for marriage, I will be tempted to say, 'Study the Song of Songs and read Duguid's commentary.' "
—Dale Ralph Davis, Minister in Residence, The First Presbyterian Church of Columbia, South Carolina
"Perhaps we've been as insecure about tackling the allegorical and literal interpretations in this song as we may be in our own relationships. Not anymore! This commentary will prove that of all the songs written to explore the age-old questions of love, the Song of Songs is the one that we cannot and do not want to get out of our heads."
—Aimee Byrd, Author, Housewife Theologian and Theological Fitness
"So is the Song of Songs really about sex or Jesus? Iain Duguid steers a wise and pastoral path between those simplistic choices. He demonstrates how this poetic book on the excellencies of human love is not merely a practical marriage guide nor an allegorical representation of the coming Christ. Rather, this book . . . provides divinely inspired insights into the blessings and weaknesses of human love in order to point us toward the goodness and necessity of the grace of God, whose love is perfected in Christ alone."
—Bryan Chapell, Pastor, Grace Presbyterian Church, Peoria, Illinois
"Duguid's Song of Songs is not your typical commentary. Though based on solid scholarship, it is completely pastoral in tone, easy to read, and rich with insights. Dr. Duguid's pastoral experience anticipates the modern reader's experiences and concerns. . . . Song of Songs teaches us to appreciate the beauty of married sexual love, while at the very same time enriching our understanding of God's love for us."
—Winston T. Smith, Faculty and Counselor, Christian Counseling & Educational Foundation, Glenside, Pennsylvania
About the Series
All the books in the Reformed Expository Commentary series are accessible to both pastors and lay readers. Each volume in the series provides exposition that gives careful attention to the biblical text, is doctrinally Reformed, focuses on Christ through the lens of redemptive history, and applies the Bible to our contemporary setting.
What do respected pastors and theologians say about the Reformed Expository Commentary series?
"Well researched and well reasoned, practical and pastoral, shrewd, solid, and searching." —J. I. Packer
"A rare combination of biblical insight, theological substance, and pastoral application." —R. Albert Mohler Jr.
"This series promises to be both exegetically sensitive and theologically faithful." —Mark Dever
About the Author
Iain M. Duguid (PhD, University of Cambridge) is professor of Old Testament at Westminster Theological Seminary, Philadelphia. He has written numerous works of biblical exposition, including Esther & Ruth in the Reformed Expository Commentary series, Ezekiel in the NIV Application Commentary series, and Numbers in the Preaching the Word series.