Prodigal Press, Revised and Updated: Confronting the Anti-Christian Bias of the American News Media by Warren Cole Smith & Marvin Olasky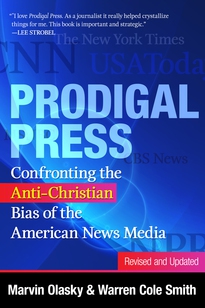 368 pages | Direct Price: $17.99 $13.50 | Paperback | Sample Chapter
Summary
25th Anniversary Edition — Revised and Updated.
In the nineteenth century, leading newspapers reported from a Christian perspective. Today, however, print and TV journalists increasingly take an anti-Christian stance while claiming to be neutral. Prodigal Press uncovers the shift to secular humanism that has radically altered what the media cover and how they report it.
Issuing a clarion call for Christians to reclaim American journalism, Olasky and Smith examine the influence of worldviews on reporting, objectivity, sensationalism, and crusading; the impact of legal, ethical, and technological changes; and the changes brought about by the 24/7 news cycle, the Internet, and social media.
Endorsements
"Not all of us are called to be journalists, but every American—whether he likes it or not—has his thinking shaped by journalism. Prodigal Press will help you to understand both the blatant and the subtle ways in which journalists promote liberal and anti-Christian ideas."
—Gary Bauer, President, American Values
"The media's discrimination against people with a Christian worldview is a form of professional suicide. Prodigal Press gives new examples of anti-Christian bias, which ought to motivate more Christian young people to consider careers in journalism."
—Cal Thomas, America's #1 nationally syndicated columnist
About the Authors
Marvin Olasky (Ph.D., University of Michigan) is editor-in-chief of WORLD magazine and holds the Distinguished Chair in Journalism and Public Policy at Patrick Henry College. Olasky studied at Yale University and is the author of more than twenty books.
Warren Cole Smith is vice president of WORLD News Group, the publisher of WORLD magazine and WORLD News Service. He has written, co-written, or edited more than a dozen books on politics, religion, media, and culture.