The following is the Introduction of Prayer PathWay: Journeying in a Life of Prayer by Kathi Lambrides Westlund. To be released November 22nd.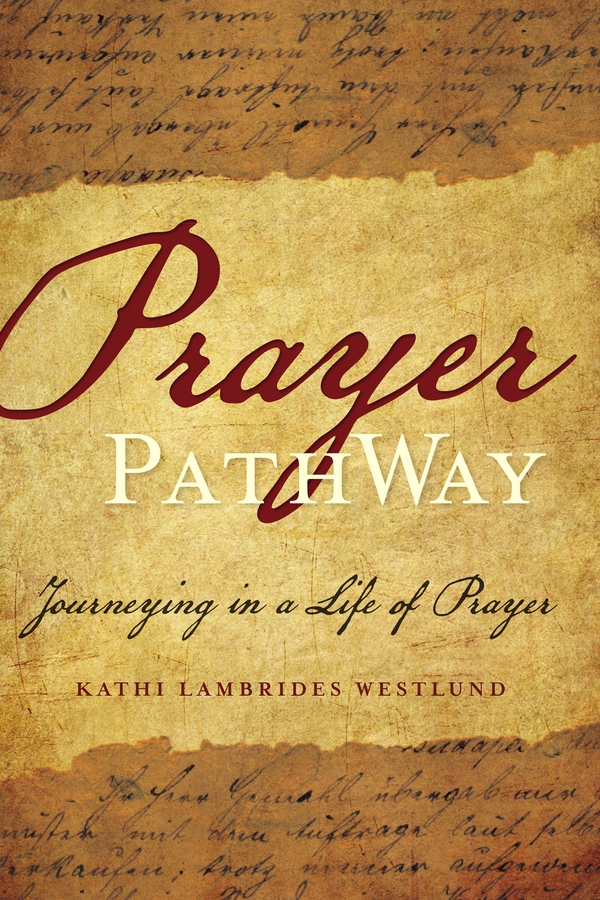 Introduction
We are sojourners in this life. Each day, we travel an unfamiliar path toward a sure destination. God is our ever-present companion— guiding and protecting, comforting and convicting us, but we are often unaware of Him.
Prayer is our means of acknowledging God's presence and seeking His help on our daily journey. It is God's way of giving us access to Him. He commands us to pray because He knows that we need Him. We need His redemption, His guidance, His courage, His forgiveness, His sustenance, His peace. He knows that we need what He has—thatwe have no w
here else to turn! C. S. Lewis expressed it: "To what will you look for help if you will not look to that which is stronger than yourself?" Simon Peter admitted it: "Lord, to whom shall we go? You have the words of eternal life" (John 6:68). And God Himself says: "Call to me and I will answer you, and will tell you great and hidden things that you have not known" (Jeremiah 33:3).
In heeding God's command to pray, we become part of a humbling and powerful collaboration:
God hears us and answers us. (Jeremiah 33:3)
Jesus prays for us. (Romans 8:34)
The Holy Spirit helps us pray. (Romans 8:26)
In prayer we:
praise God with the adoration and respect that only a King deserves.
run to our Judge for the relief of repenting and the resolve to obey.
ask the Father for things only His children dare ask.
yield to His greater wisdom and mysterious providences.
give thanks to the Giver for His unmerited goodness to us.
find refuge and rejoice in the fact that the Almighty God has heard us.
take rest in His peace: the great shalom.
MY PATH
The method of prayer, Prayer PathWay, found in this book is one result of more than thirty years of my own prayer journey. As I walked life's path of joy and pain, I longed for a guide that would help me to pray when I couldn't find refrains to reflect my happiness or laments to echo my sorrow. So I read book after book after book searching for prayer guidance. But it was all there in my own Bible: words breathed by God, through men; words that have strengthened and awed God's people throughout the centuries since Christ walked His own earthly path of joy and pain toward the cross. As I opened my eyes to behold the wonders in the Word, I was
strengthened for the journey. And my desire for the Word was ignited by seeing what God had for me there.
As I started using my Bible as a prayer book, I saw a path of prayer emerge. I saw that God's people were praising, repenting, asking, yielding, thanking, and rejoicing—over and over, in all situations, through all generations.
In my other reading, I saw that since Bible times God's wise ones have attempted to put their journeys into words. Those words have left a trail to strengthen the hearts and fuel the prayers of subsequent sojourners like me. I saw the timeless truth of the Bible underscored but not replaced, echoing down the centuries—pointing me to Christ.
Using the Bible in prayer gave me a prayer voice that was more sure and settled than my own. I began to tread a path of prayer that has helped me to pray through my days.
I was able to rejoice in hope, to be patient in trials, to be constant in prayer, humbled by the knowledge that Jesus walked this way before and encouraged by the fact that He walks with me now!
GOD IS CALLING US TO PRAY
When God calls us to pray, He isn't calling us to do something for Him. He's calling us to receive something from Him—something we need: His light for our daily journey.
God knows that we need His light for the uncertain terrain we encounter every day. He has promised: "I will turn the darkness before them into light, the rough places into level ground . . ." (Isaiah 42:16b).
The Bible is rich with the imagery of walking and of light. We moderns have a hard time appreciating what it would be like to have our feet be our main mode of transport—we use fast cars on smooth highways. And we can't imagine navigating in the dark—we flick a switch to flood our surroundings in light. Imagine walking at night on a rocky trail. The flickering light from a lantern doesn't reveal much of the path, just enough for the next few steps. Truthfully, if we knew what was ahead of us on the path, we might be too frightened to go on! God shows us just enough.
The psalmist said: "Your word is a lamp to my feet and a light to my path" (Psalm 119:105). God has the light we need. We can't create light for our path by rubbing sticks together! But God has provided a steady light through His Word.
Jesus is the Word of God in human form (John 1:1–18). He was sent "to give light to those who sit in darkness . . . to guide our feet into the way of peace" (Luke 1:79). He said of Himself: "I am the light of the world. Whoever follows me will not walk in darkness, but will have the light of life" (John 8:12). With Jesus we walk in light.
God has given us the Holy Spirit as our much-needed teacher. He said: "I will put my Spirit within you, and cause you to walk in my statutes and be careful to obey my rules" (Ezekiel 36:27). Again, the walking motif! We are enabled to walk in the truth because of the guidance of the Helper: "When the Spirit of truth comes, he will guide you into all the truth" (John 16:13).
We, sojourners, have Jesus as our light and the Holy Spirit as our guide as we seek to "walk humbly with [our] God" (Micah 6:8). We are not traveling alone. The presence and the power of the Triune God are ours.
THE BEAUTY OF A WELL-WORN PATH
We've all had the experience of carefully relying on a map or gps to navigate a complicated route to a new place. Then, gradually, with repeated trips on the same road, we don't need to rely on navigational tools. We have internalized the map. It has become part of us. We know the way.
The same thing happens with prayer.
This guide is not meant to be a formula but a pattern—not a chain but a path—to help you as you make your way. God uses well-
established spiritual disciplines to guide us when our emotions run thin and our motivations are weak. Every Christian is prayerless in some, perhaps many, seasons of life. Like any frequently traveled path, a path of prayer allows our faltering steps to progress, even if our hearts are not fully engaged. Often, the heart is sparked by the comforting routine of prayer, courage is restored, joy eventually returns.
We are all, gradually, moving toward hard times in life, if we haven't gone through them already. You won't learn to pray in the emergency room—that's where you'll speechlessly lean into Jesus. You won't learn to pray in your overturned car—that's where you'll just cry out His name. You won't learn to pray in your living room while reeling from a loved one's bad decisions—that's when you'll just weep to God. Learning the way when life is somewhat stable makes us familiar with the path so that we can run straight to Him in the dark, like a night- mare-scared child instinctively making his way to his parents' bed.