This week's author interview is with Joel R. Beeke & Paul M. Smalley, authors of John Bunyan and the Grace of Fearing God.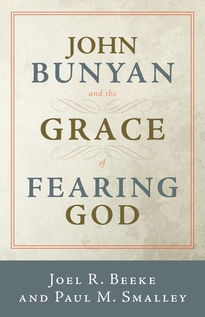 Question #1—Tell us a little bit about yourself: where you're from, family, job, personal interests, unique hobbies, what you do in your spare time, etc.
Joel Beeke: I grew up in West Michigan as part of a large Dutch family. We were an active part of a conservative Reformed church. After my conversion in my teen years, I began to avidly read the Puritans—a passion that continues today. God gave me a distinct call to preach His Word to all nations. This led me to seminary, and then to a PhD from Westminster Seminary. By God's grace, I have served three Reformed churches of about 750 members each for the last forty years, including having been privileged to pastor my present flock for the last thirty years—the Heritage Reformed Congregation in Grand Rapids. I also serve as president and professor of systematic theology and preaching at Puritan Reformed Theological Seminary, and speak at conferences around the world. My chief personal interests are my amazing wife, Mary, and our children and grandchildren. As to hobbies and spare time, well, what can I say? Books, books, books! My passion is in the writing, editing, and publishing of sound Christian literature, especially that of the British Puritans and Dutch Further Reformation.
Paul Smalley: I was raised in a suburb of Baltimore, Maryland. When I was a freshman in college at Virginia Tech, the Lord gave to me my first clear understanding of the gospel and opened my heart to trust in Christ. God instilled in me a love for the Word that soon grew into a desire to teach it to others. I completed a MDiv degree at Trinity Evangelical Divinity School, and then served as a pastor for twelve years in the Baptist General Conference. I also completed the ThM degree at Puritan Reformed Theological Seminary, through which I met Dr. Beeke. I now live in Grand Rapids and work as Dr. Beeke's full-time faculty teaching assistant at that school, while serving as a bi-vocational pastor at Grace Immanuel Reformed Baptist Church. I love to spend time with my wife Dawn and our children. I also enjoy reading theology, taking walks outside to enjoy God's creation, and studying the threefold office of Christ.
Question #2—Which writers inspire you?
Joel Beeke: The Puritan Thomas Watson was my favorite author in my teens and Thomas Goodwin was my favorite author in my young adulthood. Goodwin's works especially humbled me and showed me the love of Christ. My doctoral dissertation pertained to assurance of salvation, and I came to love the balanced approach of Anthony Burgess in Spiritual Refining. I also cherish the Letters of Samuel Rutherford because of his passion for the loveliness of Christ. My favorite all-round writer is Wilhelmus à Brakel, a Dutch Further Reformation pastor; his The Christian's Reasonable Service blends systematic theology, personal devotion, and practical ethics in a marvelous manner. As for modern authors, I find Sinclair Ferguson's books very helpful for his clear, sound, and applied teaching.
Paul Smalley: I am very grateful for J. I. Packer's Knowing God, which I read shortly after my conversion. Packer introduced me to Reformed theology and the Puritans. William Perkins is a model to me of mingling biblical exposition, doctrinal truth, experiential application, and calls to practical action. John Owen has taught me much about the work of Christ and the grace of holiness. John Flavel's treatise, A Fountain of Life (vol. 1 of his Works), is the most beautiful statement of the offices and work of Christ that I have ever read, and is all the more affecting for its plainness and simplicity of speech. Recently, I have also enjoyed Richard Belcher's fine biblical study of Christ's offices as prefigured in the Old Testament and proclaimed in the New.
Question #3—What inspired you to write this book, about this topic? (John Bunyan and the Grace of Fearing God.)
Joel Beeke: Bunyan has long nourished my soul with his Christ-centered, experiential books. When I was a child, my father used to read The Pilgrim's Progress to our family every Sunday evening and exhort us to follow Christ, sometimes with tears in his eyes. Therefore, I was delighted to write a book about this amazing, godly, persevering man. We felt that it would benefit people to see that the fear of the Lord is a fountain of life, for in popular culture the fear of God is seen as negative, even harmful.
Paul Smalley: I read Bunyan's Treatise of the Fear of God, and was deeply moved by the beauty of godly fear and its rich fruit in the Christian life. Bunyan's biblical vision of the majesty of God humbles, purifies, and ennobles us. Searching Bunyan's other works revealed how pervasive this theme is in his thought. Thus, the book's theme, the fear of God, emerged as a way to approach the teachings of this remarkable servant of God.
Question #4—What advice would you give to aspiring writers?
Joel Beeke: Choose your topic prayerfully based upon the needs of the church, not just your personal interests. Write to serve others. At the same time, write from your heart, not just your head. Read the best books that you can get ahold of on your topic, and incorporate as many of their insights as possible into your own work. Also, find people with keen minds who understand both Christianity and good writing to review your draft articles and chapters, and seek their honest feedback, even if painful.
Paul Smalley: Pray! Pray for illumination from the Spirit to know the truth. Pray for the Lord to lead you providentially to the best resources. Pray for skill to write well. Pray for the Lord to work powerfully through your writing to bless others. Most of all, pray that God would enable you by grace to write in holy love and reverence for God, so that your articles and books please him. Remember, you write in the presence of God.
Question #5—How can readers discover more about you and your work?
Sermons by both Joel and Paul are available on SermonAudio.
Joel Beeke:
Paul Smalley: