Designed for Dignity: What God Has Made it Possible for You to Be by Richard L. Pratt Jr.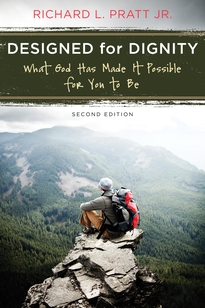 212 pages | Direct Price: $14.99 $11.50 | Paperback
About
People are confused about who they are.
Even as Christians, we can puzzle over our self-image. What has God made us? What have we made of ourselves? And what can we become in Christ? Richard L. Pratt shows from Scripture how God's amazing design for humanity can be realized in his people. Solid biblical insights, vivid illustrations, and helpful questions for review and discussion make this a valuable resource for group study or individual use.
Endorsements
"Here is a book—written with great humility, simplicity, and honesty—about people like you and me. . . . a return to the unbelievable refreshing and ever-new truths of the Bible."
—Steve Brown
"Should be required reading for those who wish to achieve their spiritual potential. Pratt's presentation of profound biblical truth in simple, compelling language displays the deft touch of a master teacher."
—Luder G. Whitlock Jr.
About the Author
Richard L. Pratt Jr. (ThD, Harvard University) is professor of Old Testament at Reformed Theological Seminary, Orlando campus. He is the author of Pray with your Eyes Open, He Gave Us Stories, and Every Thought Captive.