---
Taken from the introduction: "The purpose of this book is to provide a tool for Christian parents and churches who take seriously this task of imparting doctrinal instruction to their children. Questions and answers come from The Westminster Shorter Catechism in Modern English, but the older version of the catechism may be used if preferred. Each question and answer of the catechism has six days' worth of devotional readings for families to share together. The readings are simply written, with elementary and junior-high children in mind. They are brief, out of consideration for children's short attention spans and for the busy schedules of contemporary families."
---
The following is an excerpt taken from pages 94-96 of Training Hearts, Teaching Minds: Family Devotions Based on the Shorter Catechism by Starr Meade.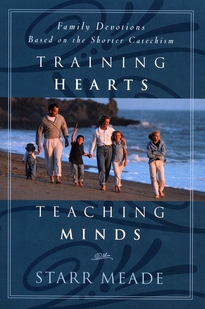 Q.28. HOW IS CHRIST EXALTED?
Monday
To exalt someone is to lift him up to a place of high authority and honor. In His humiliation, Jesus was brought low so that He could save His people. Afterward, God exalted Him. God raised Jesus from the dead as the first step in His exaltation. Wicked men had killed Him and left Him dead in a tomb. But Jesus could not remain dead. He was God's honored Son who had perfectly obeyed His Father. So God raised Him on the third day. Read Acts 2:22–24.
Tuesday
Read John 2:19–22. There are many ways in which Jesus is unique—unlike anyone else. One important way in which Jesus is unique is that He is the only One who ever died and rose again. In Bible stories, God sometimes gave prophets the power to raise people from the dead. Jesus raised others from the dead during His life on earth. Jesus alone rose from the dead by His own power. Only Jesus is God. As God, He has power over death. It is very important to us that Jesus rose from the dead, because that is how we know that He really is God. Nothing that Jesus did during His lifetime would matter at all if He had stayed dead like any other human being.
Jesus is our Prophet. He had claimed to be God and He said He would come back to life. If He had not risen from the dead, He would be a false prophet. Jesus is our Priest. If He had not risen from the dead, He would have been just another ordinary human being. His death would not have been of enough value to pay for anyone's sin. Jesus is our King. If He had not risen from the dead, He would be a dead king, unable to rule over and defend His peo- ple. Jesus' resurrection is a cause for celebration!
Wednesday
Forty days after Jesus rose from the dead, He ascended into heaven. He received a place of highest honor. This was the second step in His exaltation. As God, Jesus had great glory before He became man. When He returned to heaven, He returned to the glory that had always been His. Now He also received glory for conquering sin and death. Read John 17:5 and Hebrews 2:9.
Thursday
Not only was Jesus exalted when He ascended into heaven. In heaven, He was also given the highest and best place. He sat down at the right hand of the Father. Exalted in heaven, Jesus still cares for His people here on earth. As prophet, Jesus teaches His people by means of His written Word and sends the Holy Spirit to teach and to live inside all who believe in Him. Read Acts 2:32–33. As priest, He intercedes for us with the Father. That means that He asks for things for us so that we will receive all He has earned for us. Read Hebrews 7:24–25. As king, Jesus rules over us, His church. He protects us and gives us all that we need. Read Colossians 1:13–14.
Friday
Jesus will be further exalted at the end of time when He returns. At that time Jesus will judge everyone who has ever lived for all they did during their lifetimes. Those who lived in rebellion against God and never repented will be condemned to punishment that lasts forever. Those who rebelled against God but repented and put their faith in Christ will go to spend eternity with Him in heaven. They will be rewarded for their righteous deeds. The Bible teaches that Jesus is the One whom God has appointed as Judge. He will judge those who are still alive at His return as well as those who have already died. Read Acts 17:31 and John 5:22–23.
Saturday
Read 1 Corinthians 15:24–28. Jesus is Lord of all even now. But He waits patiently for people to repent. As He waits, His enemies—demons, death, rebellious human beings—fight against Him. One day, Jesus will destroy all His enemies. Only those who love and serve and honor Him will live with Him. This will be the final step in Jesus' exaltation. He will forever stop all His enemies from resisting His will. Voices in heaven will celebrate, saying, "The kingdom of the world has become the kingdom of our Lord and of His Christ and He will reign for ever and ever" (Rev. 11:15).
Excerpt taken from pages 94-96 of Training Hearts, Teaching Minds: Family Devotions Based on the Shorter Catechism by Starr Meade, copyright 2000, P&R Publishing.
---