20 Controversies That Almost Killed A Church: Paul's Counsel to the Corinthians and the Church Today by Richard L. Ganz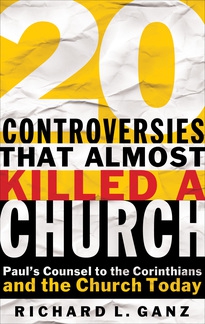 264 pages | $14.99 | Paperback | Published: 2003
Summary: From a distance of 2,000 years, the letter to the Corinthian church shows us the snares that we must avoid in the Christian life.
About the Author:
Richard L. Ganz is the senior pastor of a church in Ottawa, Canada. He is also the president of Ottawa Theological Hall, where he teaches biblical counseling. Ganz is the author of several books, including Psychobabble, The Secret of Self-Control, and Free Indeed.
What Others Say About This Book:
"Don't miss this one!" – J.I. Packer
"Practical, biblical advice on how to show love for the fellowship of the saints. Richard Ganz gives pastoral counsel to help believers live in harmony with one another within the church. I pray God will bless this work to all those who, like me, long to see Christ's church unified in passionate love for the truth of the gospel." – James White
"A helpful and interesting exposition of 1 Corinthians. Rather than a verse-by-verse commentary, the volume offers a discussion of major themes. That Richard Ganz has sprinkled these discussions with examples from his own ministry further enhances it. Thoroughly biblical." – Jay E. Adams
"An up-to-date discussion of many issues that threaten to kill churches today. True to Scripture without being doctrinaire, written for the thoughtful layman . . . a helpful contribution to an ongoing discussion of church life in the 21st century." – Baruch Maoz
_________________________________________________________________________________
Our mis­sion is to serve Christ and his church by pro­duc­ing clear, engag­ing, fresh, and insight­ful appli­ca­tions of Reformed theology.
_________________________________________________________________________________