You Can Pray: Finding Grace to Pray Every Day by Tim Chester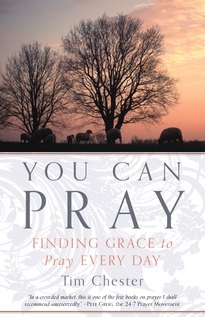 176 pages | $12.99 | Paperback
Summary: There are no good "pray-ers," but there is one great pray-er — Jesus Christ. Tim Chester shows us how, through Christ, we can become great pray-ers when we know three key truths about God:
• God the Father loves to hear us pray
• God the Son makes every prayer pleasing to God
• God the Holy Spirit helps us as we pray
When these truths are in place, we discover why prayer is easy, why prayer is difficult, and the arguments and priorities of prayer. Prayer is a child's asking her father for help—and that's not beyond any of us. Each chapter closes with a sample prayer based on a biblical text.
About the Author:
Tim Chester is a church leader from Sheffield, England, the author of You Can Change, and the associate director of Porterbrook Seminary.
What Others Say About This Book:
"I am so grateful for You Can Pray. It is gracious yet challenging, accessible yet theologically robust. If you've ever wondered why we need to pray, or how to get better at it, this book will help you enormously." – Pete Greig, Founding Champion of the 24-7 Prayer movement
"A very encouraging and enjoyable read. It put a spring into my step and got me praying more than I had been." – Sam Allberry, Author of Lifted and Connected
"Enjoyment and prayer are words that are not normally associated together, but after reading You Can Pray you will not be able to separate them! . . . A must-read for anyone who wants to make prayer easy, biblical, and God-glorifying." – Andrew Chard, European Director for AIM International
_________________________________________________________________________________
Our mis­sion is to serve Christ and his church by pro­duc­ing clear, engag­ing, fresh, and insight­ful appli­ca­tions of Reformed theology.
_________________________________________________________________________________