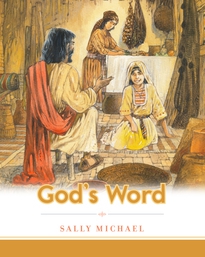 128 Pages | $16.99 | Paperback | Color Illustrated |

Series: Making Him Known
Summary: This full-color illustrated primer teaches children what the Bible is, what it says, and why we can trust God's true, powerful Word. In easy-to-understand language, children will learn important theological concepts like the authority, inspiration, infallibility, and inerrancy of Scripture. Each chapter includes discussion questions and family-friendly activities, making this book an excellent devotional for parents of young children.
About the Author:
Sally Michael is the co-founder and publishing consultant of Children Desiring God, and she developed their widely used Sunday school curriculum for young people. She is also an author and a speaker, and she served as Minister for Children at Bethlehem Baptist Church in Minneapolis, Minnesota, for sixteen years.
MHK SERIES
What Others Say About This Book:

"Sally Michael has written an easy-to-read devotional book that will help parents teach their children about the properties of Scripture. God's Word shouldn't be intimidating. A proper knowledge of the Bible gives us hope, helps us to identify false teaching, increases our gratitude and trust in God, and results in his Word becoming more precious to us."    — Aimee Byrd, author of Housewife Theologian
Other Books in the Making Him Known Series:
God's Names | 120 pages | Released 2011
God's Promise | 128 pages | Released 2012
God's Providence | 128 pages | Released 2013
God's Wisdom | 128 pages | Released 2014
God's Battle | 128 pages | Released 2014
_____________________________________________________________________________
Our mis­sion is to serve Christ and his church by pro­duc­ing clear, engag­ing, fresh, and insight­ful appli­ca­tions of Reformed theology.
_____________________________________________________________________________