God's Design by Sally Michael & Gary Steward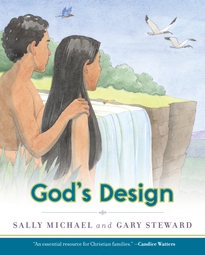 120 pages | List Price: $16.99 | Color Illustrated | Making Him Known series | SAMPLE CHAPTER
Summary
This full-color guide teaches children about God's design for men and women. In easy-to-understand language, parents will be able to teach their children how God made us in his image, how sin distorts God's good design, and how they can pursue godly manhood and womanhood. Each chapter explores what the Bible teaches about husbands and wives, fathers and mothers, marriage and singleness, and more. As children discover the beauty in God's design, they will learn to be thankful for how they are made and to glorify God in how they treat others of the same and different gender. Each chapter includes application questions and activities.
Endorsements
"Has God made you a boy? That is a good gift! Has God made you a girl? That is a good gift! God is all wise, and his plans are all good. We can trust his design, and we must embrace it in order to grow in God-honoring masculinity and femininity. These essential truths propel Sally Michael and Gary Steward's excellent book God's Design. They have written a user-friendly, Scripture-saturated guidebook to help parents to teach their children about being created male and female, in language that is easy for young children to understand, while still challenging older children and even parents to embrace God's plan for their gender with joy and thanksgiving. This is an essential resource for Christian families in an increasingly sexualized and gender confused culture."
—Candice Watters
God's Design 
About the Authors
Sally Michael is the cofounder and publishing consultant of Children Desiring God, and she developed their widely used Sunday school curriculum for young people. She is also an author and a speaker, and she served as minister for children at Bethlehem Baptist Church in Minneapolis, Minnesota, for sixteen years. She is the author of 8 books in the Making Him Known series.
Gary Steward (MDiv, PhD, The Southern Baptist Theological Seminary; ThM, Westminster Theological Seminary) served as pastor of Calvary Baptist Church in St. John's, Newfoundland, Canada, from 2004 to 2011 and is currently assistant professor of history at Colorado Christian University. He is also the author of Princeton Seminary (1812–1929): Its Leaders' Lives and Works.
Making Him Known Series
In the Making Him Known series, authors attempt to guide parents and their young children through the basics of the Bible, exploring even complex theological topics in easy-to-understand, kid-friendly language. At the end of each ready-made lesson are additional questions for reflection and family activities that will help children to remember what they have learned. These full-color, illustrated books are the perfect devotional tools for families with young children.
Other books in this series include:
God's Names – This is a full-color guide for parents to teach their early elementary children about God's character, revealed in 24 names. Each chapter ends with a personal application and activities.
God's Promise – Parents can help their early elementary children trust in God's promises revealed throughout the Bible with this full-color, illustrated guide that includes personal application and suggestions for activities.
God's Providence – In this full-color guide to how God's providence works in the world, parents can stimulate a lively discussion with early elementary children about resting in God's sovereign care. Each chapter includes personal application and activities.
God's Wisdom – Sally Michael helps parents and children discover the joys of wisdom and discern the destruction of foolishness in this full-color, illustrated book that includes application questions and activity suggestions.
God's Battle – A full-color "battle plan" for parents to equip young children for the fight of faith. Sally Michael encourages children to be fighters with a battle strategy straight from Scripture.
God's Word – This full-color illustrated primer helps parents teach children what the Bible is, what it says, and why we can trust God's true, powerful Word. Chapters include discussion questions/activities.
God's Gospel – A colorful illustrated primer that teaches young children and their parents the story of redemption as presented throughout the Bible. Each chapter includes additional questions and activities.