This week's author interview is with the 3 authors of My Grandmother…Is Praying for Me: Daily Prayers and Proverbs for Character Development in Grandchildren – Susan Kelton, Pamela Ferriss, and Kathryn March.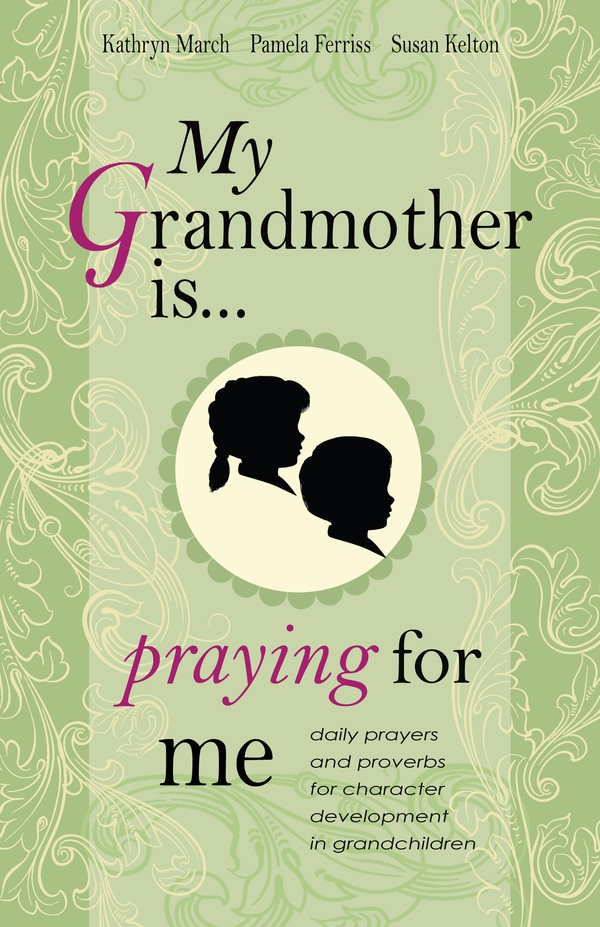 Question #1 – What inspired you to write this book about this topic?
The three of us had recently become grandmothers. We knew we were enjoying the role, but wanted more intentionality about it. Susan gathered the three of us together to discuss how we might have a strong impact in the lives of our grandchildren. As we sat and discussed some possible options, Kathy mentioned a discipline that the Lord had put on her heart. When she first learned that she was going to be a grandmother, the Lord led her to pray through the book of Proverbs. Each week she would take one Proverb and pray for those verses to become reality in the life of her new grandchild. As we spoke about this exercise in prayer, we came to believe that the Lord wanted us to further develop this idea. Because we are each busy with many involvements, we wanted a format that would be simple to use, yet reflective of the values that we wanted the Lord to develop in the life of our grandchildren. The idea of a daily devotional evolved, and because Proverbs is a book about godly character, we decided to focus on character traits.
Question #2 – When did you first want to write a book?
I don't think that any of us really knew that we wanted to write a book. When Susan first brought us together, we were unsure of what direction to take. We come from varied backgrounds – none of us is by profession a writer – and it was only after several prayerful discussions that we decided to forge ahead with a devotional. Many friends encouraged us along the way and we had a terrific editor who understand our purposes and mission and helped us to succinctly state our thoughts and prayers.
Question #3 – Do you have a specific spot where you enjoy writing most?
We had a unique process for our writing. We divided the months – the character traits – among the three of us and we each wrote a month's worth of devotionals. When we were done with that task we would reconvene at Susan's kitchen table and share what we had written. This is where we faced many challenges. We each have different styles, different expressions, and different backgrounds, so our writing was very distinct. We had to carefully, and with guidance from the Holy Spirit, lovingly critique, challenge, and rework each of our writings to assure that they were reflective of Biblical thought and application. "Sitting around Susan's table" became our spot to share our tears, emotions, struggles, joys, as well as writing.
Question #4 – What advice would you give to aspiring writers?
Our simple advice would be to listen to the Lord's leading, be willing to take a risk, be ready to work diligently, seek critique of your work, find a great editor and trust God for the results.
Question #5 – What has been the toughest criticism to you as authors? What has been the best compliment?
The toughest criticism actually came from the three of us as we critiqued each other's writing. While we view ourselves as three ordinary grandmothers, we are three very strong-minded, opinionated women.  On a number of occasions there would be differences of opinion as to the meaning of a proverb or the reflection of a proverb in a prayer. When this occurred, we would adjourn for the day, study, pray, and return the next day to begin again. Inevitably insight would surface to allow us to continue.
This collaborative effort was not easy, but God was merciful in showing us how He was using our diversity to bring us to a unity of purpose. Iron sharpening iron does produce conflict, which can be either an obstacle or an opportunity for growth. The three of us intentionally chose opportunity.
The best compliments have come from mothers and grandmothers who are using the book. One compliment we especially liked was from a grandmother and pastor's wife. "I had always prayed for my grandchildren, but it was like I prayed in black and white. Now when I pray using My Grandmother is. . . Praying for Me, it is like I am praying in color."
Question #6 – How did you deal with writer's block?
Writers' block usually occurred for the three of us when trying to come up with a daily practical application for the proverb and the prayer. It was no small task to come up with 365 appropriate and meaningful applications. After a couple of hours of working together we often "glazed over" and writer's block occurred. When this happened we would adjourn for the day. It was amazing to find when we reconvened, one of us would have heard a song, read Scripture or a book, talked with a friend, etc. that brought to mind the perfect application. We are still amazed at how that happened!
---
Want to learn more about Susan, Pamela, and Kathryn?
---