Art for God's Sake: A Call to Recover the Arts by Philip Graham Ryken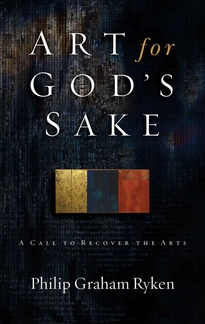 64 pages | Direct Price: $6.99 $5.50 | Paperback | Published: 2006
Summary: What does God say about the arts? Can you be a Christian and an artist? How do the arts impact your church?
The creation sings to us with the visual beauty of God's handiwork. But what of man-made art? Much of it is devoid of sacred beauty and is often rejected by Christians. Christian artists struggle to find acceptance within the church.
If all of life is to be viewed as "under the lordship of Christ," can we rediscover what God's plan is for the arts? Philip Graham Ryken brings into sharp focus a biblical view of the arts and the artists who make art for God's sake. This is a concise yet comprehensive treatment of the major issue of the arts for all who seek answers.
About the Author:
Philip Graham Ryken is president of Wheaton College. He is Bible teacher for the Alliance of Confessing Evangelicals, speaking nationally on the radio program Every Last Word. Dr. Ryken was educated at Wheaton College, Westminster Theological Seminary, and the University of Oxford, where he received his doctorate in historical theology. He and his wife, Lisa, have five children.
What Others Say About This Book:
"Theologically rich and remarkably readable, this book offers sound biblical reason to cultivate a sense of beauty."
– Nancy Pearcy, author, Total Truth
_____________________________________________________________________________
Our mis­sion is to serve Christ and his church by pro­duc­ing clear, engag­ing, fresh, and insight­ful appli­ca­tions of Reformed theology.
_____________________________________________________________________________