Bible Study: Following the Ways of the Word by Kathleen Buswell Nielson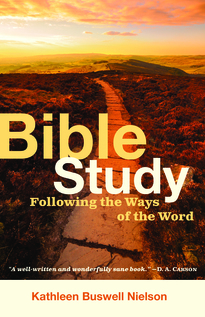 208 pages | Direct Price: $12.99 $10.00
Summary: What is Bible study, anyway? The answers are many and diverse! Is it the same thing as just reading through the Bible, or does true Bible study involve treating it differently from any other book?
Here Kathleen Nielson calls laypeople interested in Bible study to the crucial starting points and approaches that the Bible itself demands. She not only analyzes current trends, but also points the way forward, toward the most fruitful and powerful study we can have of God's inspired Word.
Bible Study: Following the Ways of the Word winsomely highlights not a rigid set of methods, but a clear approach to Bible study—one that acknowledges the Scripture for what it is and faithfully enables us to take in the very words of God and submit ourselves to them. It examines just what Bible study should involve, according to the truths and principles given to us in the Bible itself.
So come and learn what Bible study truly is and should be, and let Kathleen be your guide as you follow the ways of the word!
About the Author:
A native of St. Louis, Missouri, Kathleen Nielson holds M.A. and Ph.D. degrees in literature from Vanderbilt University and a B.A. from Wheaton College (Illinois). She has taught in the English departments at Vanderbilt University, Bethel College (Minnesota), and Wheaton College. She is the author of numerous Bible studies, and the book Bible Study: Following the Ways of the Word, as well as various articles and poems. Kathleen has directed and taught women's Bible studies at several churches and speaks extensively at conferences and retreats. She serves as director of women's initiatives for The Gospel Coalition and on the board of directors of The Charles Simeon Trust. Kathleen and her husband Niel (president of Covenant College 2002–2012, now leading an enterprise in global Christian education) have three sons, two beautiful daughters-in-law, and a growing number of grandchildren!
What Others Say About this Book:
"Kathleen Nielson wants all Christians to be involved in thoughtful and faithful Bible study—and tells us how to do it."
—D. A. Carson, Research Professor of New Testament, Trinity Evangelical Divinity School
"Nielson gives her readers a fresh and innovative, yet solid and God-glorifying approach, to unlocking the truths of Scripture . . . by reading God's words in order to ask what God is saying and how one should respond to Him."
—Dorothy Patterson, General Editor, The Woman's Study Bible
"The book cannot be better than it is . . . it covers all the right topics in exactly the right order! For people who teach the Bible—or who aspire to teach it—this book will be the gold standard for knowing how to do it right."
—Leland Ryken, Professor of English, Wheaton College