Bible Study: A Student's Guide by Jon Nielson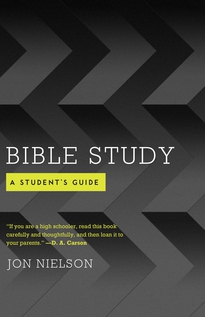 224 pages | List Price: $12.99 | Paperback | SAMPLE CHAPTER
Summary
Have you ever been to a "Bible study" that didn't have much "Bible" or "study" at all? Without a proper understanding of how to do it, students can be disappointed or scared away from studying the Bible. So what is Bible study—and can it work for high schoolers?
No stranger to teaching the Bible to teenagers, Jon Nielson confirms that real, meaningful Bible study is not only possible for students, but important. He takes students seriously and expects them to take their faith seriously. Unpacking five truths about the Bible—that it is God speaking, is powerful, is understandable, is literary, and is one story—he demonstrates how the Bible should be studied and how teenagers themselves can lead that study.
Endorsements
"If you are a high schooler, read this book carefully and thoughtfully, and then loan it to your parents."
—D. A. Carson
"If you want your ministry to be healthy, God centered, and gospel driven . . . make the Bible its lifeblood. Jon Nielson's treatment of this subject for youth and young adults alike is full of truth, relevance, and practical wisdom."
—Jay Thomas, Lead Pastor, Chapel Hill Bible Church, Chapel Hill, North Carolina
"When so many ministries are either all entertainment focused or simply rather dull, this book shows how to engage students creatively and dynamically with the power of God's Word."
—Josh Moody, Senior Pastor, College Church, Wheaton
"Imagine this: teenagers getting excited about hearing God speak through his Word. If you're excited about this prospect, read this book. You will not be disappointed!"
—Jenny Salt, Dean of Students, Sydney Missionary and Bible College, Sydney Australia
About the Author
Jon Nielson has served as pastoral resident at Holy Trinity Church in Chicago and has worked in youth and sports ministry there. He has also worked as director of training for the Charles Simeon Trust, an organization that provides training in biblical exposition. He is currently college pastor at College Church in Wheaton, Illinois.