Here's a recap of the 4 titles that were released in November and December.
---
---
Evangelical Ethics: Issues Facing the Church Today, Fourth Edition by John Jefferson Davis
400 pages | Direct Price: $19.99 $15.00 | Subject: Ethics & Worldview
SUMMARY
For three decades, Evangelical Ethics has been regarded as one of the best treatments of contemporary ethical problems facing Christians. John Jefferson Davis brings mature biblical thought to issues such as homosexuality, genetics, abortion, euthanasia, war and peace, the environment, divorce, and remarriage.
This fourth edition includes a new chapter on the history and legacy of slavery in the United States. Other chapters have been revised and updated.
ABOUT THE AUTHOR
Dr. John Jefferson Davis, an ordained Presbyterian minister, is professor of systematic theology and Christian ethics at Gordon-Conwell Theological Seminary in South Hamilton, Massachusetts. A former president of the Evangelical Philosophical Society, Dr. Davis earned his PhD degree in systematic theology at Duke University and is the author of several books, including Theology Primer; Foundations of Evangelical Theology; Evangelical Ethics: Issues Facing the Church Today; Frontiers of Science and Faith; and numerous articles in scholarly journals.
ENDORSEMENTS
"As I was serving a young and growing congregation serious about studying ethics, this book became my primary resource. . . . [Dr. Davis's] comprehensive learning, accessible language, and unswerving commitment to the authority of Scripture is evident on every page. . . . Every thoughtful Christian will want to keep this book close at hand."
—Charles Wingard, Assistant Professor of Practical theology and Dean of Students, Reformed Theological Seminary, Jackson
"I am delighted that John J. Davis's Evangelical Ethics is appearing again in a new edition. I have used the text in my classes for years. I admire its faithfulness to Scripture and Reformed theology and its power to stimulate good discussion. . . . I recommend the book highly."
—John M. Frame, Professor of Systematic Theology and Philosophy, Reformed Theological Seminary, Orlando
---
---
1&2 Thessalonians by Richard D. Phillips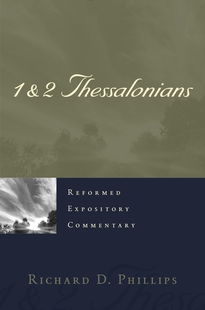 480 pages | Direct Price: $34.99 $26.00 | Series: Reformed Expository Commentary | SAMPLE CHAPTER
SUMMARY
Years before writing Romans or Ephesians, Paul sent a pair of letters to a new church in Thessalonica. Three concerns governed Paul's teaching in these letters: What makes a healthy church? How should we view God's Word? What does a Christian life look like? Richard D. Phillips's commentary considers these foundational issues in a scholarly, pastoral, and practical manner and also explores Paul's end-times teaching—the clearest found in the New Testament. Through these studies, readers will find a refreshingly clear biblical summary of what will happen before, during, and after the Second Coming. Just as importantly, by touring Paul's singular teaching in 1 and 2 Thessalonians, readers will recover a joyful anticipation of Christ's return and receive hope for life in a challenging world.
ABOUT THE AUTHOR
Richard D. Phillips (MDiv, Westminster Theological Seminary) is the senior minister of Second Presbyterian Church of Greenville, South Carolina. He is a council member of the Alliance of Confessing Evangelicals, chairman of the Philadelphia Conference on Reformed Theology, and coeditor of the Reformed Expository Commentary series.
ENDORSEMENTS
"As Christians, Bible teachers, or gospel ministers, we take our first step in the study of the Bible by going directly to our copy of God's Word. Then, seeking to plumb the depths of the text and avoid handling it wrongly, we secure accurate and thoughtful commentaries from trusted commentators. That is precisely what we have in Rick Phillips's insightful, faithful, and instructive commentary on 1 and 2 Thessalonians, which navigates Paul's Holy Spirit–inspired treatment of wide-ranging, yet ever-relevant gospel issues for life and eternity."
—Harry L. Reeder, Pastor/Teacher, Briarwood Presbyterian Church, Birmingham, Alabama
"The books of 1 and 2 Thessalonians have a crucial message for the world today, but they can be hard to understand. What does the Bible teach about the return of Christ? What should we think about the 'rapture'? Who is the man of lawlessness? With theological precision and the care of a seasoned pastor, Richard Phillips reveals the sure biblical path through the underbrush of end-times confusion, and explains the relevance of Paul's letters for today. Readers will be instructed and encouraged to follow Christ anew, trusting in the God who sovereignly directs history. Highly recommended."
—Brandon D. Crowe, Assistant Professor of New Testament, Westminster Theological Seminary; Book Review Editor, Westminster Theological Journal
---
---
Spreading the Feast: Instruction and Meditations for Ministry at the Lord's Table by Howard Griffith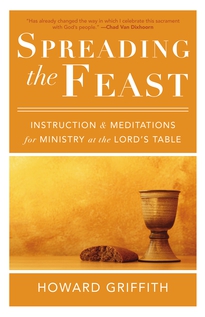 152 pages | Direct Price: $14.99 $11.50 | Subject: Theology / Sacraments
SUMMARY
In this practical book for those who serve the Lord's Supper, Howard Griffith provides an understanding of the sacrament and twenty-eight pastoral meditations that span both the Old and New Testaments. Spreading the Feast will help students to understand different facets of the Lord's Supper and pastors to form their own words of explanation and exhortation as they minister at the Table, proving especially helpful to those who celebrate communion frequently.
ABOUT THE AUTHOR
Howard Griffith (PhD, Westminster Theological Seminary) is associate professor of systematic theology and academic dean at Reformed Theological Seminary in Washington, DC.
ENDORSEMENTS
"Theologically sound and insightful throughout. Here indeed is a feast for all who value their participation in the sacrament, but especially for pastors, whether beginning or experienced, looking for help in making their own ministering at the Table more meaningful and honoring to the Lord."
—Richard B. Gaffin Jr., Professor of Biblical and Systematic Theology, Emeritus, Westminster Theological Seminary, Philadelphia
"I have profited greatly from Spreading the Feast. . . . Howard's treatment is biblically sound, and he opens up rich themes, of which some pastors may be unaware. The book will be very useful for pastors and students of theology. I recommend it highly."
—John M. Frame, J. D. Trimble Professor of Systematic Theology and Philosophy, Reformed Theological Seminary, Orlando
"Professor Howard Griffith puts us all in his debt by his clear and rich exposition of the meaning of the Supper. But he does much more than that. Reclaiming the older tradition of 'table sermons,' he simultaneously provides both a model for pastors and soul-nourishing teaching to help us all to discover the joy of union and communion with Christ."
—Sinclair B. Ferguson, Professor of Systematic Theology, Redeemer Seminary, Dallas
---
---
For a Continuing Church: The Roots of the Presbyterian Church in America by Sean Michael Lucas
368 pages | Direct Price: $19.99 $15.00 | Paperback
SUMMARY
The Presbyterian Church in America (PCA) is the largest conservative, evangelical Presbyterian denomination in North America. And yet ministers, elders, and laypeople know only the barest facts concerning the denomination's founding. For a Continuing Church is a fully researched, scholarly yet accessible account of the theological and social forces that brought about the PCA.
Drawing on little used archival sources, as well as Presbyterian newspapers and magazines, Lucas charts the formation of conservative dissent in response to the young progressive leadership that emerged in the Presbyterian Church in the United States (PCUS) in the 1920s and 1930s. Their vision was to purify the PCUS from these progressive theological elements and return it to its spiritual heartland: evangelism and missions. Only as the church declared the gospel with confidence in the inspired Scriptures would America know social transformation.
Forty years after its founding, the PCA has nearly 400,000 members and is still growing in the United States and internationally.
ABOUT THE AUTHOR
Sean Michael Lucas (BA, MA, Bob Jones University; PhD, Westminster Theological Seminary) is senior pastor of First Presbyterian Church in Hattiesburg, Mississippi. He is also the author of On Being Presbyterian: Our Beliefs, Practices, and Stories; Robert Lewis Dabney: A Southern Presbyterian Life; What Is Church Government?; What Is Grace?; and is a contributor for The Problem of Good: When the World Seems Fine without God.
Sean
ENDORSEMENTS
"As God did a glorious work in the lives of his imperfect but beloved covenant people, he would at times tell them to 'pile up some stones' in order to remember what he had done and to teach the 'coming generations.' Sean Lucas has 'piled up some stones' to prod our remembrance of the gracious work of God's providence in establishing the Presbyterian Church in America. And the 'coming generations' are therefore sure to be both encouraged and equipped for a future that by God's grace will be marked with an imperfect yet loving obedience."
—Harry L. Reeder III, Senior Pastor, Briarwood Presbyterian Church, Birmingham, Alabama
"With For a Continuing Church, Sean Michael Lucas has remedied the neglect that southern Presbyterians have generally suffered at the hands of church historians. His story of conservatives in the Presbyterian Church in the United States follows carefully the Old School tradition as it developed and adapted to twentieth-century life, and then informed the founding of the Presbyterian Church in America. If history teaches lessons, Lucas's book has at least a semester's worth for both those who belong to the PCA and others who desire to promote and maintain the witness of Reformed Protestantism."
—D. G. Hart, author of Calvinism: A History
"Don't let the title fool you. This is about far more than the PCA. This book is nothing less than a history of Presbyterianism in the twentieth century—with all its theological wrangling, all its political maneuvering, all its failings, and all its faithfulness. This is certainly a story worth telling, and Sean tells it very well."
—Kevin DeYoung, Senior Pastor, University Reformed Church, East Lansing, Michigan
---
---